Bill Rowe, a war correspondent, influential columnist and publicist
Herb Boyd | 5/10/2018, 1:07 p.m.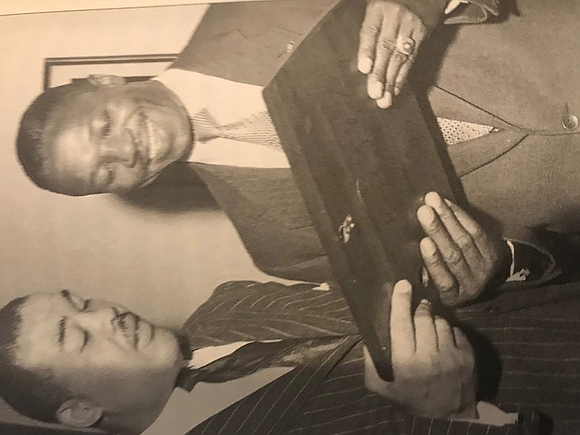 After the war, Rowe resumed his column, and he was able to funnel his reporting contacts into his newly created public relations firm, in partnership with Joe Louis. In this capacity, with Louis, Sugar Ray Robinson and Sammy Davis Jr. as clients, Rowe was in the catbird seat when it came to promoting major entertainment events and featuring top-drawer attractions.
As his reputation and prominence grew, he was tapped by Mayor Vincent Impellitteri in 1951 to be the seventh deputy police commissioner, serving as a liaison between the police and community groups. The appointment was met with derision, even from an African-American weekly, The New York Age. In the paper's opinion, Rowe was the least qualified person for such a position, particularly with so many others better trained and experienced for such a role. Some of the ire was soon tampered when Rowe proved to be quite effective, most notably in the creation of the Civilian Complaint Review Board, and his association with such luminaries as Louis and others was instrumental in their participation in taking needy children to summer training camps.
Rowe also played a decisive role in salvaging Benjamin Ward's career. Ward was dismissed after his six-month probationary period ended when it was discovered he punched a foreman in 1944 at the Brooklyn Army Terminal, seven years before he joined the police force. Rowe, on hearing about the incident and that Ward had been provoked by a racial epithet, went to bat for the young office and helped to get him reinstated. Ward concluded his distinguished service as New York City's first Black Police Commissioner.
When the new Mayor Robert Wagner was elected two years later, Rowe resigned and returned to his column and running his public relations firm. Things moved along without incident until the firm was sharply attacked in the 1960s for taking a contract to promote travel tours to Cuba. Facing charges of being unpatriotic, the firm had to cancel the lucrative contract.
For several years Rowe and his wife, Isadora, a Courier columnist who he called Izzy, lived at 555 Edgecombe, but by the 1960s they were residents of New Rochelle. He died in September 1997 at Glen Island Care Center in New Rochelle. He was 82.