Mother of Waffle House shooting victim accepts college degree on her daughter's behalf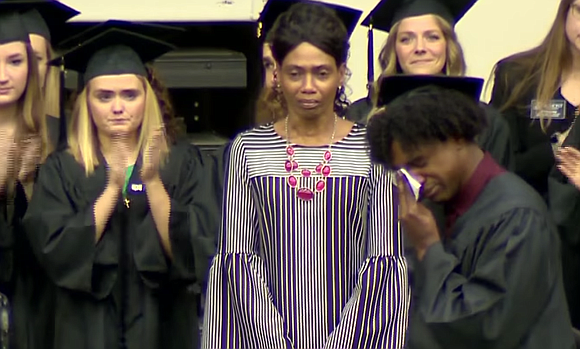 The mother of one of the victims killed during a mass shooting at a Tennessee Waffle House accepted her daughter's diploma during an emotional graduation ceremony.
Shirl Baker, the mother of 21-year-old DeEbony Groves, walked across the stage during Belmont University's commencement ceremony to accept her late daughter's degree. At the time of her killing, Groves was just two weeks shy of receiving her bachelor's degree in social work.
"Almost two weeks ago, our community suffered an unimaginable loss," said Robert Fisher, president of Belmont University. "While our hearts were broken, today we have the chance to celebrate DeEbony's life together."
Baker took to the stage surrounded by Groves' classmates as the crowd cheered for her while she walked across the stage to get her late daughter's diploma and receive congratulations from school administrators. Video of the ceremony has gone viral on social media.
Groves' brother, Di'Angelo, also received his degree during the ceremony. The two were in college at the same time.
Belmont University and Groves' sorority, Delta Sigma Theta, created the DeEbony Groves Social Work Diversity scholarship in her honor. The scholarship will provide financial support for future social work majors at the school.
Groves was one of four people killed during a shooting at a Waffle House restaurant when 29-year-old Travis Jeffrey Reinking opened fire using a AR-15-style rifle. Reinking fled the scene but was found a day later and arrested. He is charged with four counts of criminal homicide and is being held on $2 million bond.