Music festivals in the A
MEGAN PINCKNEY | 5/10/2018, 4:46 p.m.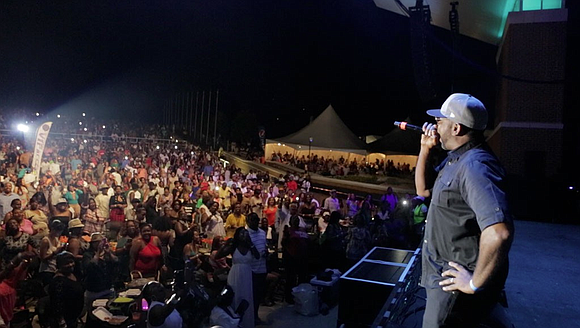 It just wouldn't be summer without music festivals. The idea of listening to good, live music while enjoying the outdoors and sipping on a cool libation is what summer is all about. Very few cities can do summer music festivals like Atlanta. But then again, very few cities can do music like Atlanta. Known as the birthplace of Southern hip-hop, Atlanta is a major player in the global music industry, so it's no surprise that this city would play host to some of the hottest festivals in the country. Over the next few months, the city will see a surge in festivals that have promised to bring the hottest music and the liveliest parties to the city that knows how to have a good time. Here's a small list of festivals you can expect see in Atlanta.
Igloo Atlanta
What initially started as an islandwide party in Jamaica has since grown into a highly anticipated event in the states. This past weekend, Atlanta hosted the festival on Turner Field and saw one of the largest crowds to date. The premise of the event is that patrons each bring a cooler (hence the event name Igloo) and serve as their own bartenders while enjoying music from some of the best DJs in the world and being outdoors. The music is a mix of hip-hop, island jams and dance music. It began at 3 p.m. and lasted until well into the night. It's been said that Igloo will return to Atlanta near the end of the summer, but there has not been any official word on a date. If you're interested in attending, follow the event on any of their social handles (@iglooatlanta) or stay tuned to their website (http://www.igloonationevents.com) for news and updates. Tickets for last weekend's event sold out, so keep that in mind as you plan to purchase
your tickets.
Atlanta Funk Fest
For more than 20 years Funk Fest has traveled the nation, putting on shows that effortlessly combine the sounds of "old school," "new school" and everything in between for an audience of diverse ages. Next weekend, Atlanta is hosting the three-day festival at the Wolf Creek Amphitheater. Heavy hitters such as Lil Kim, Nas and Charlie Wilson will all be throwing it down on the stage for tens of thousands of people. The festival is BYO food + drink and encourages patrons to celebrate the rich cultural heritage that Black music has created. Tickets are still available (although not many) and can be purchased from Ticketmaster. You can choose to buy a three-day pass or daily passes. For more information, head to https://atlanta.funkfesttour.com.
Top Dawg Entertainment: The Championship Tour
At the beginning of the year Top Dawg Entertainment surprised everyone when they announced plans to tour all of their mega talent together this summer. That means we'll be able to see superstars such as Kendrick Lamar, SZA and Schoolyboy Q all in the same place. The tour kicked off earlier this month, and will make its way to Atlanta May 25. Although it might not be a festival in the traditional sense, the show will be held at the Cellairis Amphitheater, a semi-outdoor venue that offers general admission lawn seating. Tickets can be purchased on www.LiveNation.com.