To pimp a Pulitzer: Lamar first pop artist to pull prestigious prize
"DX 21" DASUN ALLAH | 5/10/2018, 10:52 a.m.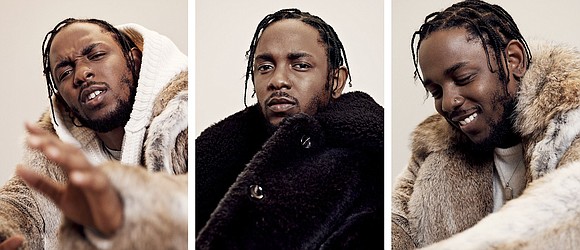 April 16, 2018, the music of rapper Kendrick Lamar Duckworth went down in the pages of posterity in a blaze of glory when the artist became the first pop star to win the prominent Pulitzer Prize for Music. The 30-year-old Compton, Calif. craftsman received the honor for his fourth studio album, 2017's "Damn."
"I thought it was a momentous, very deserved honor for a young brilliant lyricist," said 58-year-old Brooklyn-bred hip-hop cultural engineer, Fab 5 Freddy. "I think 20 years or so ago, it would've been good if they gave it to Chuck D from Public Enemy for having spoken up and speaking out so forcefully for people fighting against the system or fighting the power."
Natalie Desrosiers, a writer working with the African-American literary collective, Cave Canem, is fully aware of the Pulitzer's "significance in the dominant, high-culture art world."
The 21-year-old Queens resident was interviewed to record the resonance of Lamar's unprecedented achievement. "It has propelled the careers of many artists, whether they be writers, journalists, musicians, and they are often awarded to artists and journalists whose careers are already established," said Desrosiers.
She also pointed to the prize's longevity as a cultural beacon, the significance of its existence for more than 100 years, and how within the entirety of that time, it has never awarded its musical honors to a pop artist. "For that prize particularly, it's historical," said Desrosiers. "In the entire history of the Pulitzer Prize for Music, there's never been a hip-hop artist awarded. Every musician that has been awarded a Pulitzer Prize since the prize has been inaugurated has been in genre of classical music or opera, or there's been a few jazz artists awarded… It's a very white-washed prize."
Indeed, since Wynton Marsalis' "Blood on the Fields" won the 1997 Pulitzer Prize for Music, there have only been two other jazz winners: Ornette Coleman, the father of "free jazz," in 2007 for "Sound Grammar" and Henry Threadgill in 2016 for "In for a Penny, in for a Pound." For the most part, the award has remained within what Desrosiers described as "Western" and mainstream media has classified as the "European classical tradition." Lamar receiving this "reputable" reverence has been described as a watershed moment on par with 2016's bestowal of the Nobel Prize for Literature upon songwriter Bob Dylan, a 2008 Pulitzer Prize Special Citation and Awards winner.
Although Freddy laments people's poets of yesteryear being overlooked for Pulitzer's literary love, the cultural purveyor does see credible parallels in the impact of Lamar's music meritorious of hallowed prize recipient status. He notes how Lamar's work became a soundtrack for "the struggle."
"A couple of years ago as Black bodies gunned down by police laid in streets—Philando Castile, Mike Brown—just too many," recalled Freddy, "at a Black Lives Matter protest, I never forget the first time I heard a crowd chanting 'We gon' be all right!' It was great. I have been waiting for artists to step up to have some of those marching songs for those protestors."