#EatLocalEastHarlem
KYSHA HARRIS AmNewsFOOD Editor, @SCHOPgirl | 5/17/2018, 2:36 p.m.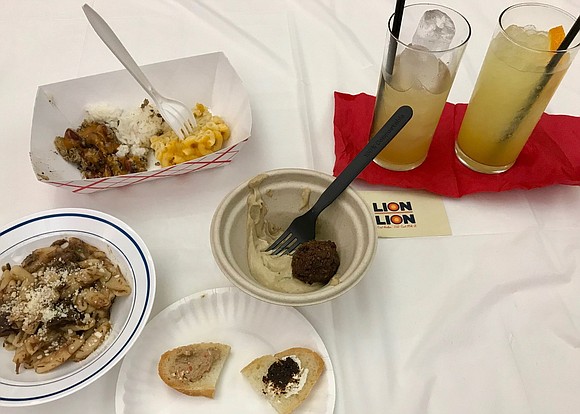 This week I was invited to the first annual #EatLocalEastHarlem food event, highlighting the foods from East Harlem restaurants and food makers. Taking place at the TEEM co-working space on Fifth Avenue, the event was ebullient with guests and participants eating and drinking.
I began my rounds with @LadyLexisSweets, serving savory pulled pork on tostones with coleslaw, just to take the edge off. I am happy she is now making savory food, too.
I decided to gather the rest of the bites from @LexPizzaParlour, the I'm So AmNewsFOOD 2017 winner; @Spread.mmms; and something new from @TNTWaffleShack, plus the cocktails of @LionLionBar. I was set to enjoy, respectively, a short rib pasta, a mezze platter of spreads and a jerk chicken plate with coconut rice and mac and cheese—and I did.
I will certainly be heading over to East Harlem to get more of these great foods. Thank you!