Gabrielle Union brings it in 'Breaking In'
LAPACAZO SANDOVAL | 5/17/2018, 3:09 p.m.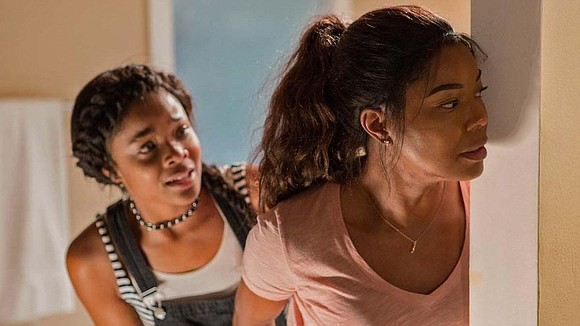 The horror scenario here is not one of curses or ravenous zombies, but rather something that could happen in real life: strangers, breaking into your happy home with violent intent. The new film "Breaking In," starring Gabrielle Union and directed by Lewis McTeaguei, is an exciting home invasion thriller standing on the aforementioned horror of a situation that's close to the bone of our everyday reality. Despite a rather weak screenplay, the film is held together by Union, who sells the hellish nightmare scenario.
Union plays Shaun, a mother of two, and the daughter of a recently deceased and disgraced millionaire. She takes her children, Jasmine (Ajiona Alexis) and Glover (Seth Carr), to her father's isolated estate to clean up the place before they sell it. The house has a very sophisticated security system that is only useful if the invaders are outside of the house. But they're already inside by the time she gets there, and soon they've kidnapped her children and locked her out.
Hell hath no fury like a woman scorned is a light statement next to the hurt a protective mother is willing, and able, to deliver to save her children. Back up. Run. To save her children, Shaun has to invade the heavily fortified mansion. That isn't easy work, and to accomplish the task she pushes herself to the physical and mental limit to save her family, and she has to do it in a short amount of time because the thieves—Duncan (Richard Cabral), Sam (Levi Meaden) and Eddie (Billy Burke)—only have 90 minutes to find the cash and get out before the alarm kicks back in and the cops show up.
Shaun cooks up one scheme after another to save her kids. Some of her plans work, but those that don't blow up in her face spectacularly.
The thin plot revolves around Shaun's father hiding millions of dollars at his estate because the government would seize those assets if they knew about them. Plausible, right? But if he owes the government that much money, they would have simply seized this giant house instead, correct? So then Shaun would never have needed to go there and none of this tragedy would ever have happened. Right? There are still more problems in the storytelling, such as when her daughter Jasmine is trying to find her cellphone. She gets distracted and she never gets back to it.
The good news is that the film is fast-paced with clear villains and a stunning heroine delivering levels of vulnerability, an innocent woman who's forced to find her inner bad girl. She sells it!
It's good that the film pushed her character to the limit because it produced a crowd-pleasing film despite the weak screenplay. I mean, who doesn't stand on the side of a mother wronged, fighting for the life of her family? At 90 minutes, it's a fun, action-packed time.