Kareem Abdul-Jabbar savored the dancing experience
LOIS ELFMAN | 5/17/2018, 1:56 p.m.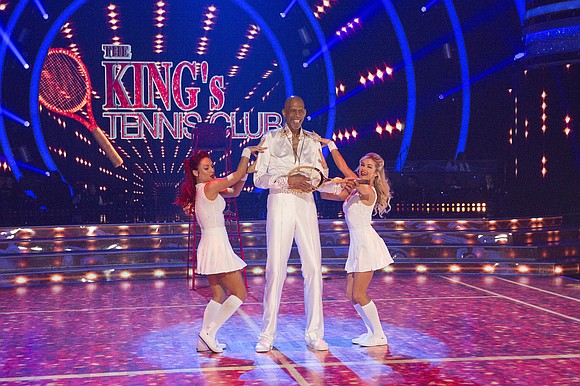 The tallest, oldest and undoubtedly the most well-known athlete on "Dancing with the Stars: Athletes" is basketball icon Kareem Abdul-Jabbar, who embraced the opportunity to let loose and perform. Although he and collegiate basketball star Arike Ogunbowale were eliminated last week, his positive energy remains.
Abdul-Jabbar was partnered by professional dancer Lindsay Arnold, who created a dynamic cha cha production number for week one. "When you watch people dance, you think, 'Oh, I can do that,'" said Abdul-Jabbar, who admitted when you're on stage with cameras rolling it's not so simple. "It's very humbling, and I have a much greater appreciation for dancers and everything they bring to our lives."
He appreciated the high energy and said his gold costume made him feel like one of the Temptations.
"I went to the Motown Review in 1960 at the Apollo Theater and saw the Four Tops and Smokey Robinson," Abdul-Jabbar said. "We tried to emulate them and imitate them with our dance moves. Now I really got a chance to do that. It was a very special moment."
Among his fellow celebrities was Final Four MOP Ogunbowale of the University of Notre Dame, the show's first-ever student-athlete. Abdul-Jabbar complimented her dancing and told her that a cousin of his, Jordan Nixon, a point guard from Brooklyn, will be her teammate at Notre Dame next season.
On week two of this four-week season Abdul-Jabbar and Arnold performed a salsa. He called upon his experience going salsa dancing during high school in New York City, including at clubs where his father's band played. He also took part in a campy team dance. Unfortunately, they were eliminated at the end of the show.
Competing against athletes still in their prime didn't faze Abdul-Jabbar, who wanted to show people that despite the fact that he's 71, a cancer survivor and has had open heart surgery, he is enjoying life and doing things that are meaningful to him. He complimented Arnold as a coach and choreographer and said applying himself to a new discipline is intriguing and an upbeat challenge.
"It gives me pleasure and allows me to share life with people that I enjoy," said Abdul-Jabbar. "There is a lot of competitive energy, but there's also a lot of respect. I have a lot of respect for them, especially the women, what they had to overcome just to train and be treated like real athletes. They've accomplished so much and made life better for all women."