Public advocate to run for AG: Won't seek WFP endorsement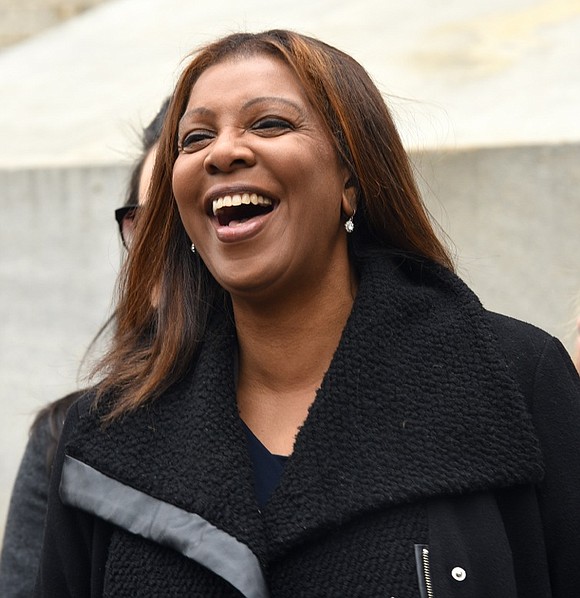 "My name is Letitia James, but my friends call me Tish," New York City Public Advocate Letitia James said during her speech Wednesday at the Brooklyn Historical Society.
Surrounded by the likes of former Council Speaker Melissa Mark-Viverito, New York City Council Members Mark Levine, Laurie Cumbo, Andy King, Justin Brannan and Alicka Ampry-Samuels and members of the Communications Workers of America 1180, the New York State Nurses Association and the Retail Wholesale and Department Store Union, James announced plans to run for the Democratic nomination for New York State attorney general. She joins a scrum of individuals all vying to take the place of disgraced former state attorney general Eric Schneiderman. Schneiderman resigned last week amid allegations of abuse from four different women.
The public advocate reportedly filed papers with the New York State Board of Elections, and her name will be on the Democratic primary ballot, which takes place Sept. 13. She would be the first African-American state attorney general and she would be the first woman formally elected to the position if she wins.
James, a former city Council member, assistant attorney general and public defender, promised to continue the agenda that Schneiderman left behind.
"The law should be an instrument for change," James said. "The law must be used as a vehicle to right wrongs…I will take on special interests who seek to destroy our families and our communities. I will take on ICE agents who seek to rip families apart. I will take on companies from Wall Street to Main Street who engage in unfair business practices that hurt hardworking New Yorkers."
James joins a clan of potential candidates that include former U.S. Attorney Preet Bharara, New York State Assembly Member Daniel O'Donnell, former Congresswoman Elizabeth Holtzman, former state gubernatorial candidate Zephyr Teachout and New York State Sen., Michael Gianaris. Many of the aforementioned candidates are being interviewed this week for the interim AG position currently occupied by Barbara Underwood.
Manhattan Democratic Party County Chair Keith Wright said that James possessed all of the characteristics to become the next state attorney general.
"Initially, what you want to do, especially on the Democrat side, is pick a candidate that can get elected on their own," said Wright. "Tish checks all the boxes. Downstate. She's a Black woman who's been elected twice by voters in the City of New York. The city is the voting engine that drives statewide elections."
During her announcement, James referred to herself as "the people's lawyer" and told those in attendance, "I am your champion." Bertha Lewis, president and founder of the Black Leadership Action Coalition, said that James has all the attributes of a potentially successful state attorney general.
"I have known and worked with Tish for years. She has always been a progressive, always supported the community and she has never forgotten where she came from," said Lewis in a statement. "She has an incredible work ethic and incredible moral ethics to fight for all New Yorkers. We've supported her in her run for City Council and public advocate, and now we are tremendously happy to support her in her run for attorney general. She is the right choice at the right time for the right job."