Public advocate to run for AG: Won't seek WFP endorsement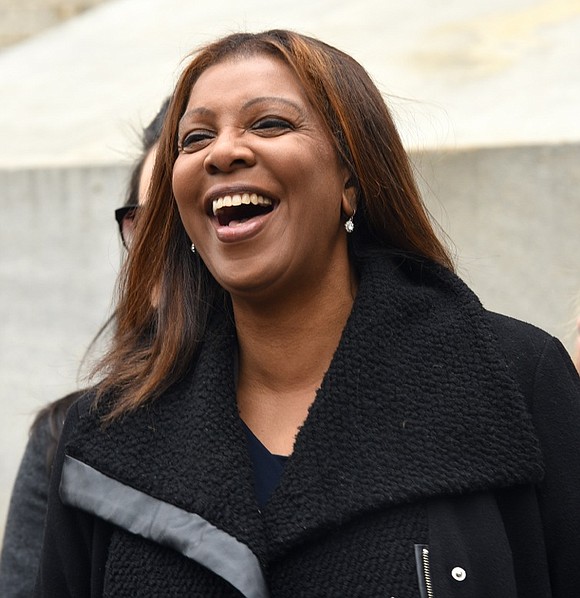 But the news comes with some caveats. The New York Times recently reported that New York State Gov. Andrew Cuomo allegedly advised the public advocate to not run on the Working Families Party ticket because of their endorsement of Cynthia Nixon for governor.
New York Working Families Party leaders Afua Atta-Mensah, of Community Voices Heard Power; Karen Scharff, of Citizen Action of New York; Javier Valdes, of Make the Road Action; and Jonathan Westin, of New York Communities for Change, said that Cuomo wouldn't demand this sort of action from someone who was white.
"It is nothing short of outrageous to see Andrew Cuomo demand Tish James jump through hoops that he would never ask a white man to do," read the joint statement. "He is telling her to reject the party where she got her start, and refuse the WFP's support, which could be critical in both the primary and general elections. Meanwhile, he is helping elect Republicans to Congress by running on the Independence Party line."
The statement continued, "This is part of a disgraceful pattern, just like when he kept white male Republican leadership in the State Senate instead of supporting Andrea Stewart Cousin's leadership. In King Andrew's New York, everyone else is a political pawn."
Cuomo's people didn't respond to requests for comment.
New York Working Families Party Director Bill Lipton said that Cuomo's actions are par for the course.
"The governor has a long history of punishing organizations and candidates that didn't follow his wishes," said Lipton. "He let Republicans rule the State Senate, effectively sidelining Andrea Stewart-Cousins. He's sought to defund organizations that serve working class and poor New Yorkers because they disagreed with him politically. Now, he's asking Tish not to take a ballot line that means a lot to many New Yorkers."
But on Twitter, former New York City Council Speaker and mayoral candidate Christine Quinn said James has agency over her choices and that the statement from Westin and others robs her of such.
"Enough saying women candidates/electeds don't think for themselves or make decisions for themselves," Quinn said on Twitter. She also told the New York Working Families Party to "stop belittling the intelligence of WOMEN."
But during the push and pull and political maneuvers that take place during this process, a group of New Yorkers whose quest for closure was interrupted by Schneiderman's fall from grace hope that you don't forget about them.
Last week, the Justice Committee released a joint statement featuring family members of New Yorkers killed by the police and asked that their pursuit of justice not be forgotten during the AG-decision process. This week Justice Committee Co-Director Loyda Colon said that state legislators should just appoint Underwood as the interim attorney general until the fall election.
"We are concerned that instability caused by yet another leadership transition in the AG's Office will negatively impact the cases in which police have killed New Yorkers the office is currently handling in its capacity as special prosecutor," said Colon in a statement. "This is not the time for a power grab, when there are so many important cases pending. Our priority is that the families who have lost loved ones to the police whose cases are being handled by the AG's Office are afforded the transparency and respect they deserve and that their loved ones' cases are handled swiftly, thoroughly and justly."
As James left the media scrum post-announcement a reporter asked her what her favorite town upstate is.
"Schenectady," James said. The public advocate has until Sept. 13 to win towns such as Schenectady over.