Sports gambling ruling will affect the underground economy
JAIME C. Harris | 5/17/2018, 1:47 p.m.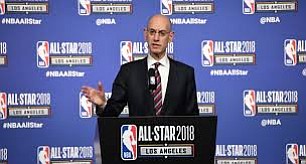 Monday's Supreme Court ruling to overturn the 1992 Professional and Amateur Sports Protection Act will have a profound impact on the American economy—perhaps most significantly the underground economy, commerce that is unregulated, unrecorded and untaxed.
Initiated by a lawsuit brought by former New Jersey Gov. Chris Christie, the decision now allows individual states to enact sports betting, currently the domain of Nevada. The determination by the country's highest court will undoubtedly drastically alter the estimated $150 to $200 billion per year in illegal wagers.
"I am thrilled to see the Supreme Court finally side with New Jersey and strike down the arbitrary ban on sports betting imposed by Congress decades ago," said New Jersey Gov. Phil Murphy. Conversely, illegal operators do not share similar exuberance.
State-regulated gambling will cut into the activity of neighborhood bookies, perhaps mirroring the near extinction of the numbers racket over the past 40 years with the advent and subsequent proliferation of state lottery games.
"It's definitely going to hit [illegal] shops hard," said Sean, who requested his last name not be used. Sean is a regular gambler who wages primarily on the NBA, NFL and NCAA college basketball. "The [underground] bookies are going to have to offer some type of incentives because ultimately it's going to be hard to compete with the state operation."
He added, "Dudes will simply have to use their phones to log on to the sites, place their bets, not worry about the risks involved with dealing with bookies or the offshore accounts and cut a lot of stress." Clandestine entrepreneurs will always exist, but if Sean represents a majority or even a plurality of gamblers betting underground, their business will take a decided hit while the potential tax revenue for states looms monumental.
The NCAA and professional sports leagues also stand to greatly benefit from the Supreme Court ruling. Among professional sports leagues, NBA commissioner Adam Silver has long been at the forefront of advocating for legal sports betting nationwide, acutely knowledgeable of the potential revenue it can generate for the global entity.
"Despite legal restrictions, sports betting is widespread. It is a thriving underground business that operates free from regulation or oversight," wrote Silver in an op-ed published in The New York Times in November 2014.
"Because there are few legal options available, those who wish to bet resort to illicit bookmaking operations and shady offshore websites. There is no solid data on the volume of illegal sports betting activity in the United States, but some estimate that nearly $400 billion is illegally wagered on sports each year."
He concluded, "I believe that sports betting should be brought out of the underground and into the sunlight where it can be appropriately monitored and regulated."
The next battle for Silver and his fellow commissioners will be with lawmakers in ascertaining how the NBA and other leagues will share in the profits of legalized gambling.