Talking SCHOP! Melting in the Harlem pot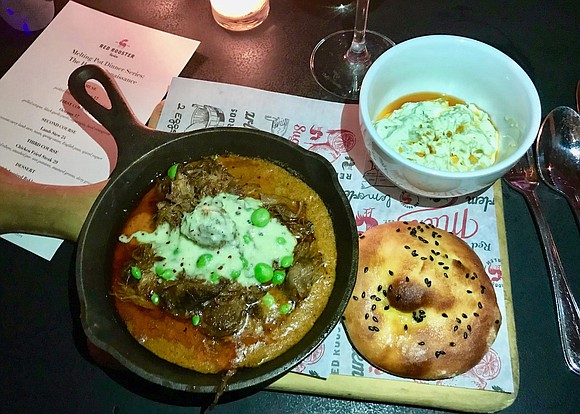 I really love what I do. You are probably rolling your eyes saying, "Of course you do! You get to eat and drink and write about it." That is true, but for me it is also about highlighting passion, creativity and the business of food. After 16 years in the business, I can spot the people who get it, the people who need a little help and the people who are doing a disservice to themselves.
I am most happy when I hear Harlem eateries, restaurants, food makers and chefs are innovating, moving forward and creating new experiences for us. Over the past two weeks, I was invited to a couple of events to whet the appetite for summer dining and food festivals.
The first was at the beginning of the month at Ginny's Supper Club at Red Rooster. It was the inaugural event for their Melting Pot dinner series. This one was titled The Harlem Renaissance. My beautiful niece Courtney and I settled in at a table with a perfect view of the stage.
We began with a Maker's Mark cocktail, as some of the performers and speakers of the evening walked around to introduce themselves. There were Harlem poet David Ellis, the grandson of the founder of the Schomburg Center, and a dynamic young jazz band with members attending Julliard and holding national honors in music, among others.
While the vibraphonist of the band played with my music-heart strings, our five-course meal began first with an amuse-bouche of pickled king salmon on a blue potato chip with avocado slaw. Courtney and I loved this bite.
The second course laid grilled octopus with sweet black garlic puree, asparagus and basil vinaigrette in front of us. The combination of perfectly cooked octopus with sweet, salty and bright flavors was beyond. The texture was not Courtney's bag, so I took care of her plate, too. Good auntie!
The second and third courses of coconut curry lamb stew with naan and spiced yogurt and chicken-fried dry aged ribeye steak with smashed potatoes, mustard greens and dirty gravy were not to be played with. I loved the presentation and flavors of that stew, but I could only get through a couple of bites of that steak and gravy because I had hit maximum capacity—or
so I thought.
Pastry chef Tiffany Jones laid down the boom-bip on us with baklava, chockablock with plump toasted pistachios. I tried my best to have only one or two bites, but it was gone and I was asking to take one home before I knew it.
What a great night of music, art and culture. Get your seat for the next in the series.
Happy eating and thanks for reading!
Kysha Harris is a food writer and editor, culinary producer, consultant and owner of SCHOP!, a personalized food service in NYC for more than 15 years. Follow her on Twitter and Instagram, @SCHOPgirl, on Facebook, /SCHOPnyc, and her blog, www.talkingSCHOP.wordpress.com. Questions? Comments? Requests? Feedback?  Invitations!  Email AmNewsFOOD at AmNewsFOOD@SCHOPnyc.com. Follow us on Instagram, Twitter and Facebook @NYAmNewsFOOD and tag us with #SoAmNewsFOOD with your food finds!