Up-and-coming glass artist carves out own niche
NADINE MATTHEWS | 5/24/2018, 4:55 p.m.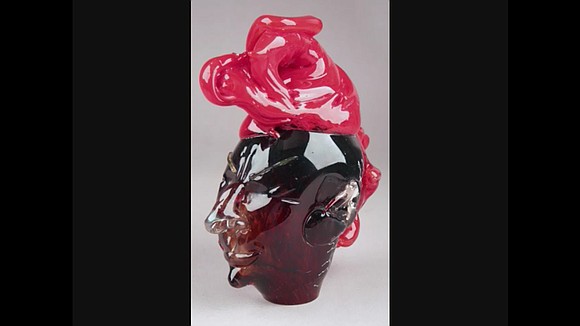 It was totally unexpected. Hanging out with roommates on a lazy Friday night 11 years ago, one of them said, "You know, you can blow glass."
It was a simple sentence, but it was one that took hold of Evanston, Ill. native Peter Singleton and wouldn't let go. It was a meaningful utterance in a number of ways. Singleton had literally moved to Seattle because of a dream he'd had. The dream had come to him at a time of turmoil. "My wife decided to leave me," he explained. "I was all messed up in the head and broken hearted and didn't know what I wanted do, but I had that dream one night."
The fateful reverie told him where to go, but not why and he had stepped out in faith. Finally, he knew the reason.
Peter Singleton grew up in a large family of nine children in Evanston, a suburb of Chicago best known for being the home of Northwestern University alma mater for people such as Duchess Meghan Markle, television producer Mara Brock Akil and Spelman President Johnetta B. Cole. "We grew up, all nine of us together like brothers and sisters," he said. "There were seven of us, and my mother and father took in two of my cousins when their mother passed."
He was particularly close to his sisters from whom he says he learned the importance of respecting women. "I grew up with five sisters and used to play with paper dolls with them and everything," he said.
The innocent utterance of his roommate sent Singleton to the library, where he took out a book on glass blowing. "It was on an artist called William Morris," he recalled. "It was amazing work and I had never looked at glass in that way, in that fashion."
The librarian, impressed with his passion, referred him to Seattle's Pratt Fine Arts Center, where he took classes and eventually became an unofficial apprentice. "My jaw was dropped," he said. "I was blown away. I never saw glass like that before, and it captured me in a very different way."
He quit his job and started working at a company that made windshields. Singleton, who is more than 6 feet tall and the color of dark chocolate with a boyish visage, laughs at his former naïveté. "It wasn't what I thought it would be," he said. "I just saw that it said glass and I saw what I wanted to do and thought I could learn something there. I just wanted to be around glass as much as possible."
Singleton also left his apartment, moving into a homeless shelter for five years. It was a sacrifice that gave him the freedom he needed to pursue his craft and meet people who could help him move forward. He ran into a number of different master artists who took him under their wings. Singleton then ended up in Pilchuck Glass School, where he launched his first exhibition, which was received very positively.