Up-and-coming glass artist carves out own niche
NADINE MATTHEWS | 5/24/2018, 4:55 p.m.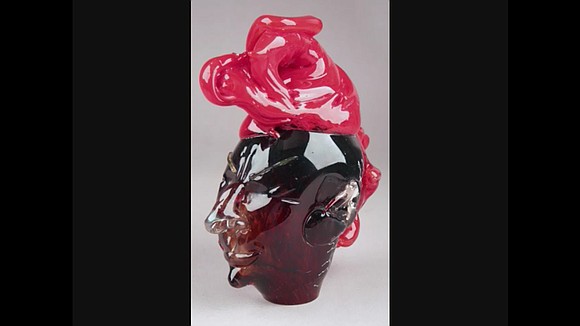 Still, he had to take an alternative route to start to get his work out there. "I was trying to go through the galleries," he explained. "Everybody went through the galleries. I went to all the galleries." He was turned down by all of them.
Because Singleton was a regular visitor at the Museum of Glass in Tacoma, the head of its Hot Shop, which is a working studio for glass making, invited him to showcase his work there.
"He said, 'How about I give you two free Fridays?'" Singleton recalled. "I was psyched!"
The two successful museum shows motivated him to put together more exhibitions for his work. He found underground venues where he could do multimedia showcases his way.
"It was a new niche that I found" he said. "I got thrown into this space that was unconventional, and I liked it! I did a show with rap artists, with DJs spinning, with poets. What I didn't realize at that time was I wanted to show glass through the lens of my culture."
Although he is still a proverbial struggling artist, Singleton now travels across the U.S. putting on exhibits of his glass artwork in the same sort of underground venues with multimedia accompaniment. He has big dreams for his work.
"I want to make glass art part of the urban conversation," he said. "Anything that's urban, I want to reach that audience. I want Black people to start talking about glass art. I want them to say 'I know what a Reticello is, I know how a goblet is made, I know the difference between Czech glassmaking and Italian glassmaking.'"
Singleton does more glass sculpture than functional glass work, such as creating plates or bowls. His work gives off a feeling of freedom and whimsy. The 30-something Singleton admires artists such as Karen Willenbrink, whose work he says has a way of drawing in the viewer and fostering a feeling of community.
For anyone else out there harboring unconventional dreams, he said, "Everyone's path is different. That's the first thing. And your heart has to be in it. If you love something go for it. There's gonna be good days and bad days, but you have to keep going. There's nothing wrong with thinking different."
He considers himself blessed to have a support system that keeps him going during his moments of doubt. His best friends, poet and singer Queenie and Lady Mercedes, are often the wind beneath his wings.
Five years ago, Singleton made New York City his home base and has lived in Harlem for the past year. It is having an impact on him as an artist.
"Harlem has such a beautiful rich Black history that is really pushing me as an artist," he said. "It's making me not only want to show Black culture, but show the story of Black culture. There's just something about Harlem and its swagger."