And the old sage T.I. then said...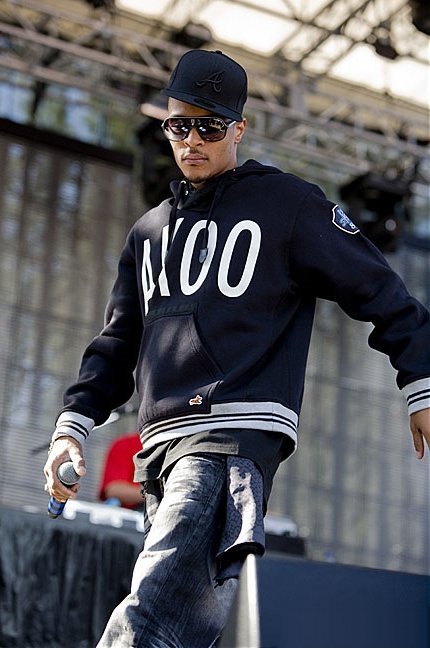 Coming off the week he just had, with actions and words, you'd think that Clifford Harris' alter ego, T.I., was an abbreviated form of Tupac Incarnate. In the wee hours of May 16, he was arrested on misdemeanor charges of disorderly conduct and public drunkenness after an altercation with a security officer assigned to guard the gated community where he lives.
Although the charges seem to be a nuisance more than anything, the episode has had an effect, as explained to TMZ. "People who fought fed cases don't lose sleep over no misdemeanor, especially when they're trumped-up," said T.I.
He continued, "I spent a lot of time reconstructing my image from my past transgression, so I could do deals with other corporations. Then you throw me out there like I'm just drunk, beating up on people, and that ruins future possible opportunities for me. If you take money off my table, it can't be whole again until you replace it. So, who's going to replace it is the question."
Artistically, T.I. weighed in on a situation involving creative expression. A video surfaced of a fan, invited to perform alongside Kendrick Lamar, during a stop in Alabama, felt herself a little too much and uttered the dreaded N-word.
Weighing in with his opinion, T.I. explained, "Honestly a tough spot for both parties. I feel the same way every show when I do '24s' in front of thousands of white fans. I know it's not malicious, and they mean no disrespect or harm, but it still stings a lil' bit. And then I gotta accept my responsibility for using a private term for public consumption. ... I feel both sides. But all in all #IstandWitKdot period." 
As for the fan, he offered, "You silly kids are funny. Enjoy the bliss of your ignorance. I'm off to make a difference somewhere."
Finally, and more passionately, were the diatribes regarding social justice on an issue emanating from deep in the heart of Texas. We know all too well of the latest mass murder that occurred at Santa Fe High School in Galveston, Texas. Ten lives were lost, and a community's lives were forever affected by the act. The alleged gunman, Dimitrios Pagourtzis, 17, is being held on charges of capital murder and aggravated assault on a public servant. An equally heinous crime was allegedly committed by another 17-year-old, Taymor McIntyre, who's awaiting trial for capital murder and robbery. Rumors ran rampant that different maximum lengths of punishment were in play for the two, with McIntyre, who is African-American, believed to be in line for the death penalty. That notion leads an infuriated T.I. to respond, "This is America! We must start standing by ours the same way they stand by theirs! We can't keep just throwing ours away when they f--- up, while they give they people every consideration possible. F--- that!"
He added, "One of them was arrested on the scene of the school shooting that claimed 10. The other was a warranted arrest with little physical evidence, just word-of-mouth. So, the question is how is the DA seeking the death penalty for Tay K & not the other guy? And that he's a minor ... they're the same age!"
A quick fact check shows that a 2005 Supreme Court decision in Roper v. Simmons decided that teens younger than 18 at the time of their offense are ineligible for the death penalty. Giving teens younger than 18 the death penalty was ruled unconstitutional by the court under the Eighth Amendment, which bars cruel and unusual punishment. Therefore, this situation could bear equal results. What that doesn't do, however, is sweep under the rug that optically, it appears that other suspected criminals get apprehended while African-Americans get murdered.

What you know about that?
Over and out. Holla next week. Til then, enjoy the nightlife.