Curt denies Nigerian fishermen access to justice, rights groups say
5/24/2018, 1:56 p.m.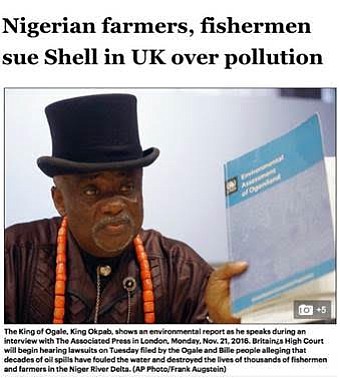 A coalition of human rights, environmental and development groups from the four corners of the world is challenging a U.K. appeals court ruling that lets U.K.-headquartered parent companies escape liability when people in poor countries are harmed by their affiliates.
The ruling stems from a lawsuit by the Ogale people in Nigeria against Royal Dutch Shell, based in England, and its Nigerian subsidiary that was accused of polluting the community's drinking water through pipeline leaks.
Traditional leader Emere Godwin Bebe Okpabil testified at the hearing, bringing several bottles of contaminated water as evidence.
"Royal Dutch Shell came to our country in the 1950s, and since then they have been running away from the damage they have caused," he said. "It is a U.K. registered company and that is why we came to the High Court in London seeking justice. ... The legal system in Nigeria is highly corrupt, and there is no way we could get justice [from a Nigerian court.]"
He continued, "We did not know we had a problem until a U.N. report in 2011, which made us realize that in our water there was a level of disease that was 900 percent [higher than normal]. I am here to tell the Shell directors that they have made tons of money from our community by destroying our environment."
But Shell denied liability, claiming that because the case was brought by Nigerian citizens against a Nigerian company for actions taken in Nigeria, there was no case against the parent company. An appeal to the decision was denied, prompting the response from the rights groups.
Their letter to the court stated, "The judgment in Okpabi vs Royal Dutch Shell suggests a highly restrictive approach to parent company liability, which if left standing, is likely to drastically limit the options that victims of abuse have to access justice, and potentially encourage further irresponsible business behavior."
Abuses by U.K.-linked businesses cited in the letter include mercury poisoning, mesothelioma, asbestosis and silicosis suffered by workers in South Africa; the health effects of toxic waste dumping in Ivory Coast; and injuries and deaths at a mine site in Tanzania.
Among the signers to the letter were Friends of the Earth Nigeria, African Resource Watch, the International Commission of Jurists and the Association for Women's Rights in Development