DanceAfrica celebrates South Africa at BAM
Zita Allen | 5/24/2018, 5:05 p.m.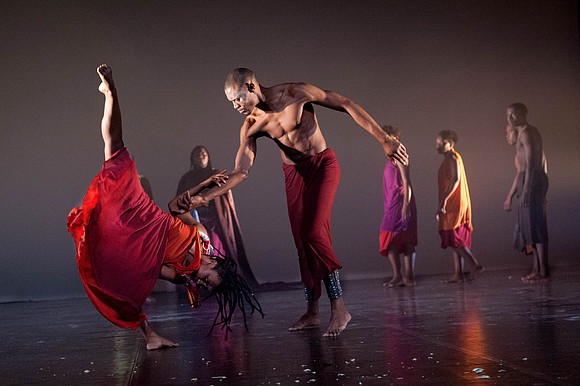 May 25 to May 28, the nation's largest African dance festival and the Brooklyn Academy of Music's longest running program returns for its 41st year with a vibrant and exhilarating program that celebrates a rich African cultural tradition, DanceAfrica Artistic Director Abdel R. Salaam is calling Remembrance, Reconciliation and Renewal.
DanceAfrica was born some four decades ago, in 1977, when dancer and choreographer Baba Chuck Davis, as a stroke of genius and generosity, invited several African dance companies to share the stage during his own company's BAM season. And, now, with Salaam, Baba Chuck's hand-picked successor, at the helm his legacy is secure and the tradition continues.
This year is Salaam's third as artistic director of DanceAfrica, and he says this year's program features the thrilling traditional African dances and drumming beloved by so many and much more. Performers included the traditional South African super-troupe, Ingoma KwaZulu-Natal Dance, and the contemporary Durban-based Siwela Sonke Dance Theatre. The South African companies will, in turn, be joined by The Spirit Walkers, a group comprising 13 dancers from companies Salaam has worked with, and the delightful BAM/Restoration Dance Youth Ensemble. All in all, this year's program will highlight the parallels between South African anti-apartheid and American civil and human rights movements, including our contemporary struggle for social justice.
Salaam says choosing the African companies that would perform during this year's DanceAfrica was not easy. He saw some 20 dance troupes in Johannesburg and Durban. He said, "Eventually, we chose one small contemporary company of six dancers, and when I simply couldn't make up my mind between the many amazing traditional companies, I worked with the South African producer Duma Ndlovu to combine six different companies into one amazing super-troupe of 25 dancers and drummers. Together they represent an amalgamation of different indigenous dance styles."
Ndlovu, who lived in New York in the 70's and 80's before returning to South Africa, has worked with numerous theater productions and dance companies, both here and in South Africa, including Lincoln Center and Disney, as the casting director for the hit musical show "The Lion King." He said he is excited to bring his company to New York City, "Abdel has done extensive work with dancers from the continent, and this is the first time in a longtime that DanceAfrica is featuring South African dance. Now we hope that this relationship will grow and eventually we might see some of DanceAfrica being borne on
the continent."
This year's DanceAfrica will reflect the diversity of African dance, Salaam said. He added, "I am following the influences of my dance father—Baba Chuck—and my dance mother, the innovative, postmodern dancer/choreographer Joan Miller."
The profound influence of these two mentors has, he said, is at the heart of his vision for DanceAfrica. He continued, "I'm connected to a rich heritage, a rich legacy. My consciousness would not be what it is today without those who taught me that when people leave the theater, they should not only have thoroughly enjoyed themselves but they should also be inspired to be a part of critically important conversations. My first year as DanceAfrica artistic director I focused on skin-bleaching that's happening in Africa. Later, I focused on the environment, particularly the water crisis, and gun violence." But, at the heart of it all, Salaam said, is the focus on social justice.