A guide to Sussex, in honor of the new duke and duchess
MEGAN PINCKNEY | 5/24/2018, 3:05 p.m.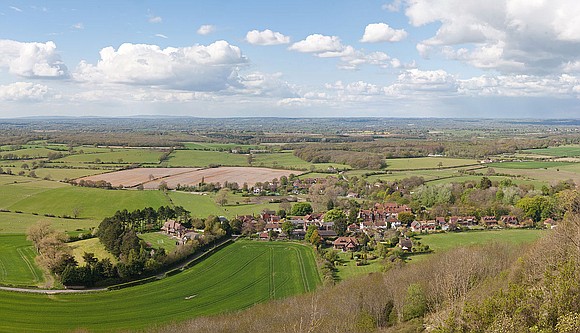 Chances are you were one of the millions of people from all over the world who tuned in this past weekend to watch Prince Harry, the man currently sixth in line to the British throne, wed Meghan Markle, a divorcée, biracial American woman in a romantic, fairytale-like ceremony that effortlessly blended British and African-American culture. But before the Royals were "taken to church" by Bishop Michael Curry, in a way that African-Americans know all too well, and before the entire world was serenaded by the angelic voices of the gospel singers who make up The Kingdom Choir through their powerful renditions of "Stand by Me" and the "Amen" hymn and even before 19-year-old Sheku Kanneh-Mason amazed everyone with his cellist performance, something really important was announced. Yes, before Meghan Markle and her mother, Doria Ragland, even began heading to St. George's Chapel at Windsor Castle on the morning of May 19, Queen Elizabeth announced that Prince Harry and Markle would become the Duke and Duchess of Sussex after the nuptials.
If you're anything like me, you had never heard of Sussex before this past Saturday, yet you're already looking for an excuse to visit the region. After a little research and some planning, here's what I've found:
What is historically known as the Kingdom of Sussex has since become the region of Sussex and has been divided into two counties, East Sussex and West Sussex. The region is located in southeast England, right on the English Channel, directly below London, although they do not border one another. The population is 1.6 million people, with almost half of them residing in the Brighton, Worthing and Littlehampton areas.
During my next trip to London, I plan to take a detour to the region to visit Brighton, a seaside resort town. The quickest, and most affordable, way to get to Brighton from London is by train with Loco2. It takes less than an hour and you can get tickets for less than $10 if you make a reservation more than 30 days in advance. If you wait until the week of, tickets can still be purchased for less than $20.
When planning a trip, one of the first decisions I make is where I'll stay. After looking at a number of options, I've settled on two favorites in Brighton: Blanch House and Hotel Una. Blanch House is located just off the seafront in the eclectic area of Kemp Town and is a short walk from Brighton's city center. The hotel has a modern elegance about it, which can be seen throughout. Each room is designed and decorated differently, although each encompasses the Blanch House's goal of luxury and homeliness. Aside from their ideal location and picture-worthy rooms, the Blanch House is known for its award-winning breakfast, which uses locally sourced produce and ingredients. Rooms are reasonably priced with double beds starting at 110 pounds per night.
Hotel Una is also a luxurious choice. However, its style is much more contemporary. The hotel is filled with unique, clean-cut pieces that push the boundaries of interior design. In each room you'll find free standing baths, contemporary lighting and original artwork that complement the historic Regency architecture. A small double room at Hotel Una starts at 130 pounds. Both hotels require a two-night minimum stay on the weekends and bank holidays.