Malcolm X influencing future generations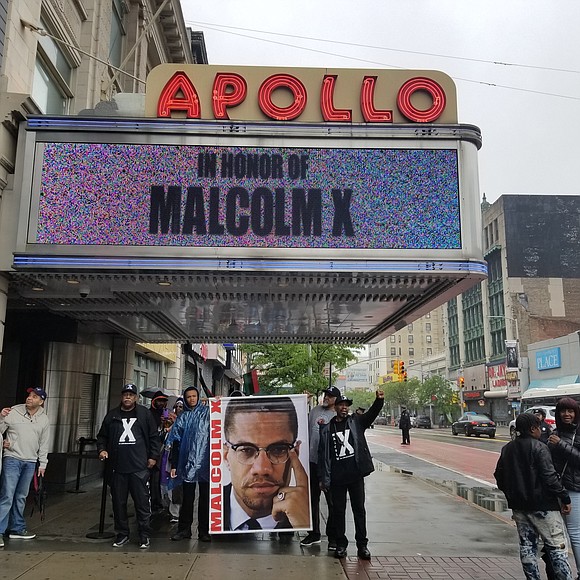 Malcolm X's legacy was commemorated Saturday in acknowledgment of the 93rd anniversary of his birth. Self-determining grassroots activists celebrated his life in their own individual ways with several local events that complemented each other.
African drummers set the tone at the foot of Harlem's Adam Clayton Powell State Office Building (163 W. 125th St.) in Saturday morning's drizzling rain as a congregation of modern-day Malcolmites boarded their buses and cars, before trekking up to Ferncliff Cemetery in Hartsdale, N.Y., for the 54th annual pilgrimage to Malcolm X's burial site. The pilgrimage is sponsored by Malcolm's Organization of Afro-American Unity and the Sons of Africa, and each year many supporters come in from throughout the country to pay their respects to "our Black shining prince."
Upon arrival, participants met up with others from across the country, and then the ahdan (Muslim call to prayer) set the ceremony in motion after eight brothers, dressed in all-white, symbolizing the Sudanese Islamic brotherhood, took their positions around the red, black and green flag draped over the spot where the mortal remains of Malcolm X and his wife Betty Shabazz are interred.
"We are present today because we are not fair-weather revolutionaries," noted Mosque of Islamic Brotherhood's Imam Al-Hajj Talib Abdur-Rashid. "Struggling for change doesn't just occur when the sun is shining and the weather is good."
Moderator and OAAU President Professor James Small stated, "This is not a religious ceremony," before introducing individuals from various African traditions Malcolm X had grown to understand.
"We have many traditions, don't get carried away with [titles]. We're just Black folks with pretty labels, and it doesn't mean anything unless you're willing to do what he did," Small stated. "Malcolm said, 'The price of freedom is death,' and he proved it. If you're not willing to do that, your religion don't mean nothing. If you wanna make this day mean anything, dedicate yourself to continue to change the world for freedom's sake. Otherwise you've wasted your time."
He then introduced Brother Kalfani, an Agun priest, who said, "Regardless to what your faith is, we have a commitment to uplift ourselves. One of the things Malcolm helped us understand is that it's not enough to uplift yourself because you'll miss the point of us as an African people. When you understand that it's about 'the we,' then you'll know that you have a responsibility to do something different."
Small also introduced Malcolm's niece and grand-nephew, who came down from Boston.
"The light didn't die with Uncle Malcolm," noted, school teacher Ajim. "Everyone here brought that light, and it's important that we all know that. We need to disconnect from the darkness."
Malcolm X Commemoration Committee President Sister Dequi Kioni-Sadiki spoke about the plight of political prisoners-of-war before saying, "Malcolm sacrificed his life. The prayer is that you're not only honoring Malcolm on the anniversary of his birth, but on every day with the work that you do, in the name of El Hajj Malik El Shabazz, independence, freedom, Black liberation and our children. We have an obligation to honor our people who sacrificed their lives and freedom."