Meghan Markle brings her African-American roots to royal wedding
JORDANNAH ELIZABETH | 5/24/2018, 4:03 p.m.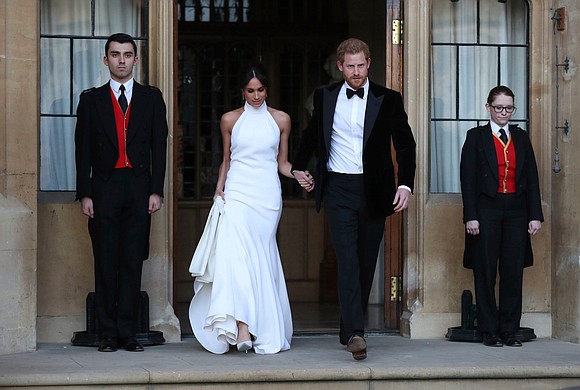 The world watched as Prince Harry, Duke of Sussex, married Meghan Markle, a biracial American actress and women's activist for U.N. Women, at St. George's Chapel at Windsor Castle, Windsor, United Kingdom May 19.
This wedding was not your ordinary royal wedding. In fact, it was the first of its kind in human history because of Markle's ability to bring her culture across the pond to create a breathtaking overture of Black history within the confines of the British monarchy. Her vision and respect for her African-American culture was undeniable as the first African-American bishop of the Episcopal Church, Bishop Michael Curry, delivered a stunning sermon, in which he orated on the reality of the power of love.
"When love is the way—unselfish, sacrificial, redemptive—when love is the way, then no child would go to bed hungry in this world ever again. When love is the way, we will let justice roll down like a mighty stream and righteousness like an everflowing brook. When love is the way, poverty will become history. When love is the way, the Earth will become a sanctuary. When love is the way, we will lay down our swords and shields down by the riverside to study war no more. When love is the way, there's plenty good room, plenty good room for all of God's children."
Not only did Curry receive praise for his sermon, but also it has been widely publicized that his words were the highlight of the ceremony, as he spoke of change, the end of poverty and war in a room full of oligarchs and celebrities, including Oprah Winfrey, Serena Williams and Idris Elba.
Curry opened his sermon saying, "The late Dr. Martin Luther King Jr. once said, and I quote, 'We must discover the power of love, the redemptive power of love. And when we do that, we will make of this old world a new world, for love is the only way.'"
The wedding of a royal interracial couple was received well by the world, which noted Markle's mother, Doria Ragland, to be a pinnacle of grace and strength as she sat alone at the wedding, looking upon this important day in her daughter's life. Nothing truly mattered to the Black communities of the world except that Markle was accepted and that Black culture was respectfully embedded into the royal family with the security and loving execution of Bishop Curry's words, Markle's smile and her mother's peaceful demeanor. Does that mean there is hope for equality in Western culture and the last breaths of colonialism? Probably not, but it is a possible step forward toward acceptance, openness and toleration on global levels not before seen.