No 'rule of law' for Trump
Herb Boyd | 5/24/2018, 12:54 p.m.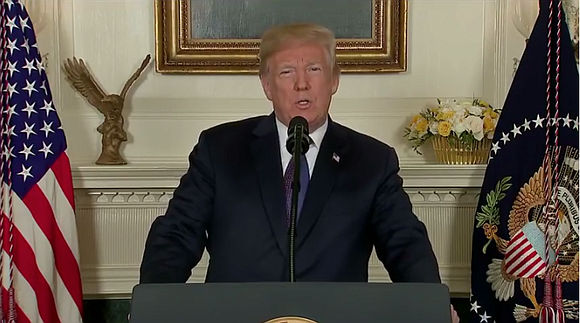 That the Trump administration approached and then balked from stepping into a constitutional quagmire is nothing new, and such was the case Monday when Trump veered close to involving partisan politics and the independence of law enforcement.
Under question was a Trump demand that the DOJ investigate whether the FBI improperly delved into the 2016 presidential campaign on political grounds.
Deputy Attorney General Rod Rosenstein, after meeting with Trump, said he would ask the inspector general to look into Trump's allegations, which stops shy of a full-scale criminal investigation.
The DOJ, according to the White House press secretary, "has asked the inspector general to expand its current investigation to include any irregularities with the FBI or the DOJ's tactics concerning the Trump campaign."
The maneuver is viewed by some as nothing more than another Trump distraction to alter the ongoing special counsel probe into whether charges of obstruction of justice can be brought against Trump or that his campaign was in cahoots with the Russians.
Former acting Attorney General Sally Yates, who was dismissed from her position after she refused to defend Trump's order on immigration, said Trump was launching an "all-out assault on the rule of law," taking it to a new level.
Besides this abrogation of the rule of law, the Trump administration is demanding that the DOJ reveal the source who assisted the Russian investigation and contacted three Trump campaign advisers on matters of foreign policy.
Stefan Halper, then an emeritus professor at Cambridge, was that source, according to an article in The Washington Post Tuesday. At some point in 2016, Halper began working as a secret informant for the FBI, but the Post declined to reveal that information that now has been disclosed by several news organizations.
It is Halper's involvement that prompted the Trump administration to charge that the FBI improperly spied on his campaign. There is no evidence, several accounts assert, that Halper was inserted into the Trump campaign, despite the meetings with three of his advisers.
A long-time expert on CIA affairs and Pentagon think tank activities, Halper was accused of political spying on Jimmy Carter's campaign against Ronald Reagan, an accusation he has vehemently denied.
In books and articles, Halper has been a vocal critic of President George W. Bush, particularly his military policy in Iraq.