A queen rules at Medieval Times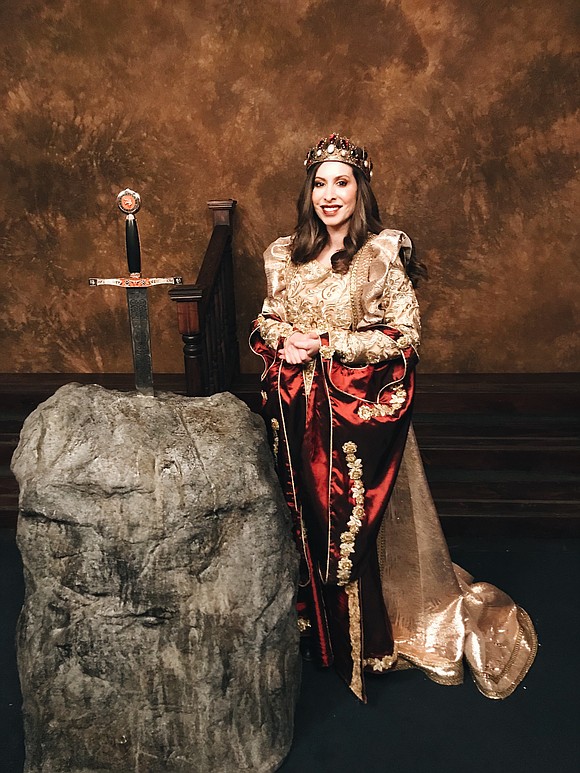 Medieval Times Dinner & Tournament in Lyndhurst, N.J. has been transporting families back to Medieval Times (1066-1485) in England since 1990, and it is an amazing, wholesome form of family entertainment.
You and your family enter the castle at 149 Polito Ave. in Lyndhurst and you are given your crown, your tickets, your colored banner for the knight you will cheer, and if you would like, you can take a picture with the queen's counselor. Once inside, you are escorted to your table, and a servant will start serving your four-course meal (which includes delicious soup in a bowl with a handle, because they didn't have utensils in medieval times). As you enjoy this scrumptious meal fit for royalty, you are introduced to the six knights who represent different colors and are competing to become the queen's protector. They compete on horseback, throw lances at targets, joust and sword fight on the ground. As your knights compete, you cheer them on at the top of your lungs and you wave your flag like someone possessed. It is so much fun you won't believe how astonishing it feels. I cheered, yelled and screamed for my blue knight until I also lost my voice. I had so much fun! You are instantly a die-hard fan. There is just a feeling that comes over you and it stays with you throughout the show. I haven't had this much fun at dinner theater ever!
Medieval Times is also a superb horse show. The horses are gorgeous and are beautifully trained and dressed in the adornments of the times. Medieval Times Dinner & Tournament is a complete family get-a-way experience. But what is really making it different after 28 years is that now for the first time, instead of the knight competing to protect a king, they are competing to protect a queen. Yes, a lady rules the court now, a single queen, Queen Isabella, whose father had been the late king.
After getting my scream on, my yell on and my fun on, I had the magnificent opportunity to interview the actress portraying Medieval Times first queen, Queen Isabella.
AmNews: How does it feel to be Medieval Times' first queen, and what is your real name?
Jessica Schear: My name is Jessica Schear and it feels like an amazing new responsibility, it feels empowering, and it gives me a whole new confidence that I've never had before…. the queen is the lead of the show. She is all powerful, she is saluted to by the knights, and I feel like it is time for this responsibility to come about.
AmNews: How would you describe Queen Isabella?
Schear: I think that she is a very fair ruler. She's kind, and she deeply cares about the people in her realm. She definitely tries to look after the well-being of her knights, and really cares about them. She was bred by her father to be a good queen—however, she's not a pushover. When her authority is challenged, she's not afraid to stand up for herself and remind every single person that she is the queen.