First male students graduate from The College of New Rochelle's School of Arts & Sciences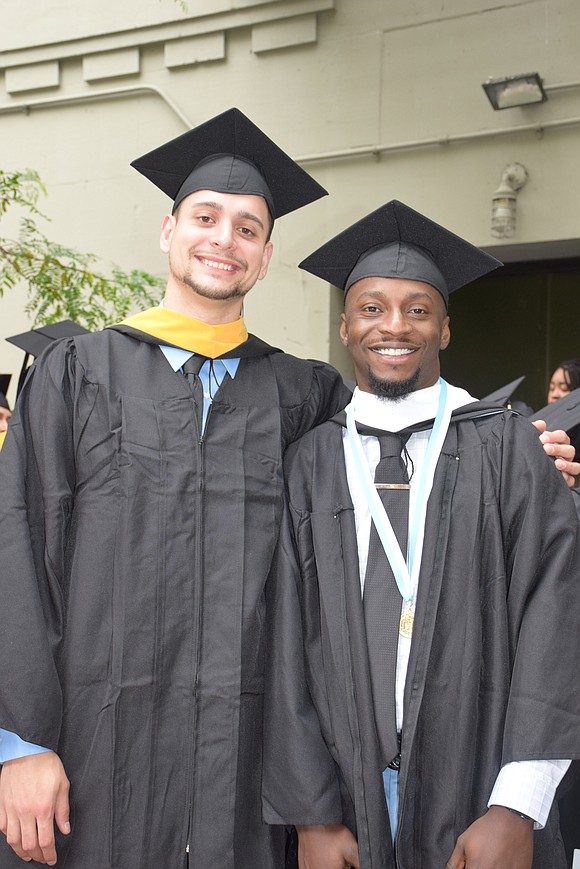 First male students graduate from The College of New Rochelle's School of Arts & Sciences
When they transferred to The College of New Rochelle last year to complete their degrees, neither Chris Brannon nor Cristian Perez del Castillo expected that they would be making history. But when they walked across the Beacon Theater stage during the college's 111th commencement earlier this week to accept their degrees, they were indeed making history as the first two male graduates from the School of Arts & Sciences, which became coeducational in the fall of 2016 after more than a century as an all-women's school.
Brannon, who says as a transfer he didn't realize until his senior year that he might be one of the first men to graduate from the School of Arts & Sciences, describes the experience as "very exciting and a great honor." The youngest of three and a Bronx native who attended John F. Kennedy High School, Brannon knew of CNR because his sister, Kristina Brannon, graduated from the School of New Resources in 2015.
"Because my sister attended CNR, I always had an eye out for the college, and when it became coed, I took the initiative to apply," said Brannon, who was attracted to CNR for both the strength of the Media and Communications Department and for the opportunity to be part of the college's inaugural men's basketball team.
Perez del Castillo, who was born in Bolivia and moved to the United States at the age of 5, was the first in his family to earn a college degree. The Harrison High School graduate recalls finding himself intrigued by CNR when he learned it was going coed at a college fair at Westchester Community College, where he was a student at the time. He decided to attend CNR after being offered an academic scholarship. A social work major, he has enjoyed his classes with many "great faculty" and excelled as part of the first men's soccer team, where he earned the divisional Goalkeeper of the Year Award.
Both graduates made the most of their time at CNR to gain much needed professional experience in their fields of study—Brandon in sports information in the CNR Athletics Department and at CBS Sports, and Perez del Castillo at Westhab, which provides services to homeless and low-income families in Westchester, and at JCCA's Cottage School, a residential treatment program for emotionally troubled children.
"Interning with the CNR Athletics Department really allowed me to see the ins and outs of working in sports information and that it's much more than just box scores," said Brannon. "I learned to be a professional and a lot about the role of sports information director, including putting together player bios, updating the rosters and printing out pregame information for the games. It was a great experience for me."
The experience he gained at CNR helped him land an internship at CBS Sports as a researcher. "At CBS, I got to work with a lot of great people, around a lot of talent, a lot of former athletes and a lot of on-air talent," Brannon added.