Herman D. 'Denny' Farrell, gentleman and beloved politician, dies at 86
Herb Boyd | 5/31/2018, 10:08 a.m.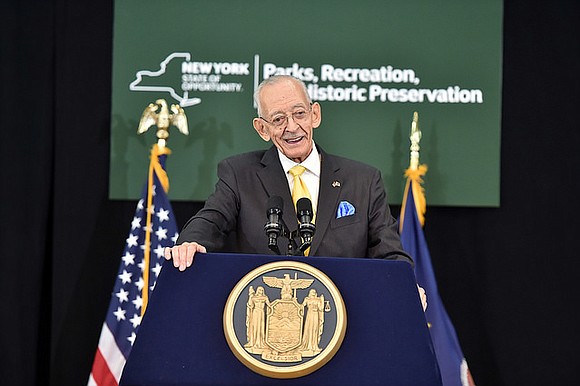 Herman "Denny" Farrell Jr. might have evinced an aristocratic presence, but his constituents knew him as a political leader of deep conviction and integrity during his 42 years in office. He was "an icon in New York State politics," said Speaker Carl E. Heastie. Farrell, 86, died Saturday, May 26, in a Manhattan hospital.
According to Herman Farrell III, his father died of heart failure.
Farrell, said Gov. Andrew Cuomo, "exemplified the best in politics." "He was a gentleman" and "He set an example of kindness and respect" were among the reflections from his Democratic and Republican colleagues in Albany, many of whom had served alongside him for years.
Last September, Farrell left these colleagues behind after retiring from the Assembly, where he had distinguished himself most notably as the chairman of the Assembly's Banking committee and later of the Ways and Means Committee. At that time of his retirement announcement, he said he wanted to spend more time with his family, especially his 13-year-old daughter, Sophia.
Born Feb. 4, 1932, in Manhattan, Farrell was the son of parents who immigrated from Jamaica and the U.S. Canal Zone. The couple were extremely enterprising, eventually owning Farrell Frocks, which sold cocktail dresses.
Farrell was a graduate of George Washington High School and briefly attended New York University but never earned a degree.
His political career began when he worked for Mayor John Lindsay in the Washington Heights office. In 1970, he was elected a Democratic state committeeman; for three years he was elected district leader and a year later he began his long tenure as an Assemblyman representing a district that included Harlem and Washington Heights. He was re-elected 21 times to this post. In this capacity he earned the respect of political leaders beyond the state and later was a member of the Democratic National Committee.
A major event in Farrell's political odyssey occurred in 1985 when Black politicians, forgoing a possible coalition with Hispanic voters, endorsed Farrell as their mayoral candidate against the incumbent Mayor Ed Koch. Hispanic leaders saw Herman Badillo as their choice for the coalition. When the tally was counted, Farrell had less than 40 percent of the vote in Harlem. Citywide his numbers were even less impressive, tallying 13 percent. If Farrell failed to attain the office, he set the stage for David Dinkins' victory four years later as the city's first African-American mayor.
In this regard, Dinkins had no doubt of Farrell's paving the way. "I think it did, no question," he said upon hearing of his friend's passing. "It was groundbreaking. He was a good friend, and we were always proud of the fact that we always supported each other."
Dinkins and Charles B. Rangel, the former representative from Harlem, are the two remaining politicians of a bygone era, charter members of the "Harlem Clubhouse." "He's a remarkable American story, from a court clerk to the Democratic County leader," Rangel said of Farrell. "The words that best describe him, in my 60 years in politics: He was a straight shooter."
"Few people gave more to NYC than Denny Farrell," tweeted Mayor de Blasio. "He showed an unwavering commitment to making New York a fairer place, no matter what side of the aisle you were on."
Farrell often dismissed accolades and commendations, stating, "I will hardly be remembered," but Riverbank Park now renamed in his honor will help to sustain his memory and legacy.
His marriage to Theresa Adele Doherty ended in divorce. And in addition to his son Herman III, a playwright, Farrell is survived by his daughter Sophia Ilene Farrell (with his partner Barbara Klar); Monique Guidry-Farrell; and two grandchildren.
Funeral services for late Assemblyman Herman "Denny" Farrell have been announced.
A wake is being held Thursday, May 31, from 3 p.m. to 8 p.m. at Church of the Intercession located at 550 W. 155th St. at Broadway. Funeral services will be held Friday, June 1, at the church at 10 a.m.
Farrell died May 26 at age 86 of heart failure. He was one of New York State's longest serving politicians, serving for more than 40 years.
In lieu of flowers, Farrell's family is asking that donations be made to the Isabella Geriatric Center and Children's Aid.