Rosie Lee Tompkins, a private but spectacular quilt maker
Herb Boyd | 5/31/2018, 10:50 a.m.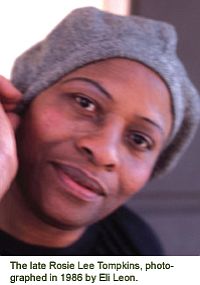 Special to the AmNews
From what I can gather, Rosie Lee Tompkins, the extraordinary quilt maker, was not that interested in the spotlight, preferring a more reclusive life to do her work. And that work, which is phenomenal, speaks volume for Tompkins.
Although just of patches of cloth, when Tompkins sewed them together into a quilt, they often resembled paintings, sometimes abstract expression, African textiles or the modernist creations of such artists as Mondrian and any artist prone to geometric shapes, particularly triangles.
Tompkins said in one of her rare interviews that she often prayed before embarking on a quilt, and she often heard voices that she hoped to dispel in a finished quilt. Given her privacy, it's a wonder she was known at all, but when she did choose to market one of her products, it wasn't unusual for them to be purchased for thousands of dollars.
Tomkins was born Effie Mae Martin Sept. 6, 1936, in the southeast section of rural Arkansas. At one time she was known as Effie Mae Howard during a brief marriage. Tompkins might have acquired her work ethic from her early years of picking cotton. There were also those endless opportunities to be included in the sewing circles with her mother and numerous other practitioners from whom she learned her craft.
By 1958, Tompkins, then 22, had moved to California, doing a variety of work, including as a nurse from formal training obtained at nursing schools around Oakland and Richmond. It wasn't until 1980 that she began devoting full time to the making of quilts. Even then, however, only her family was familiar with her growing prowess. One person who gained her confidence and entered her privacy (which was respectfully guarded) was Eli Leon, a noted authority of quilt making.
"Something she told me once was that despite the fact that nobody knew who she was, she felt like she had no privacy," Leon said in interview shortly after Tompkins' death in 2006. "She felt like she lived in a glass house and people were watching her."
It must have been such moments that drove her deeper into the protective sense of privacy.
But despite the desire to remain anonymous, Tompkins' fame bloomed and soon she was asked to exhibit her works in museums across the country and in Japan. Many of her quilts are in the possession of prestigious museums, such as the Whitney in New York City and the Oakland Museum. According to Roberta Smith of The New York Times, whose artistic insight and opinions are highly valued, Tompkins' works are "unerring and intuitive in their sense of color, shape and scale." Smith added, "Ms. Tompkins' quilts are formidably joyful visual events that ignore the usual boundaries between cultures, histories and mediums."
Beyond the use of the traditional pieces of cloth, Tompkins experimented with other materials, including polyester fabrics, furs, wool and silks. She was not opposed to using even rougher, coarser fabric, such as burlap and feed sacks. I have no idea the extent to which Tompkins might have known of the role of quilts as symbols and signals to runaway slaves, many of them fleeing via the Underground Railroad and looking out for quilts hanging on porches and elsewhere to note a danger or a safe house.
Just before her death, she was preparing for a one-woman show at the Shelburne Museum in Shelburne, Vt.
Although Tompkins rarely attended her shows, she often expressed how pleased she was for the opportunities, according to Leon.
She was 70 when she died of undisclosed causes at her home in Richmond, Calif.