Another season of lost hope for Big Blue Nation
Jaime C. Harris | 11/1/2018, 2:48 p.m. | Updated on 11/1/2018, 2:48 p.m.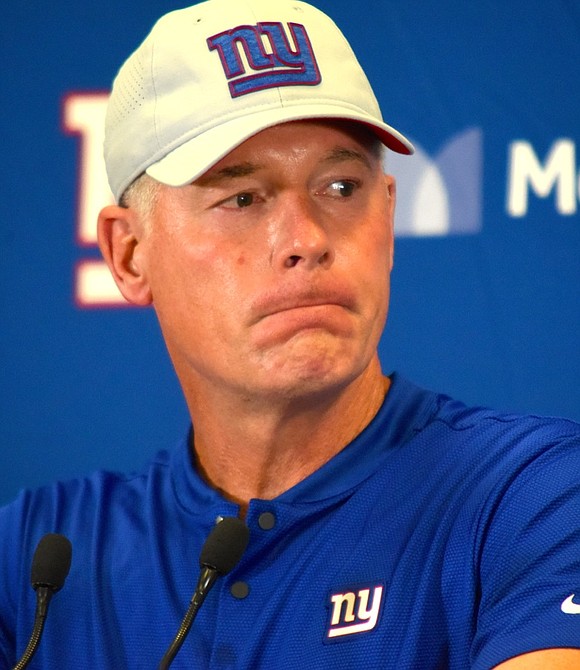 There was a feeling of palpable optimism for the Giants and their fans entering this season after a horrific 3-13 campaign last season. Despite lingering uncertainty as to whether Eli Manning, a two-time Super Bowl MVP and No. 7 on the NFL's all-time passing yardage list, still possessed the physical tools to be a consequential component of the team, there was cautious confidence a retooled offensive line would provide him with the necessary protection to elevate the Giants to the playoffs for the first time in seven years.
Betraying the ardent idealists, they have been an even greater disappointment this season than the previous debacle, given the expectations. The Giants are 1-7, tied with the lowly San Francisco 49ers and Oakland Raiders for the fewest wins in the league. As their head coach Pat Shurmur and his staff make an effort to find solutions to an inconsistent defense, an offensive line that has been nothing short of terrible and a shell-shocked Manning, who was sacked seven times by Washington Sunday in a 20-13 loss, the despondence, anger and frustration of the hungry fan base is warranted.
To make matters worse, Giants rookie quarterback Kyle Lauletta, who some speculated would replace Manning as the starting quarterback after the Giants come out of their bye week Nov. 12 to face the 49ers on the road, was arrested in Weehawken, N.J., Tuesday morning on charges of obstructing justice, eluding police and resisting arrest. Ironically, Manning is fourth in the league in passing yardage with 2,377.
At the midpoint of the season, the Giants, who have already traded cornerback Eli Apple to the New Orleans Saints and defensive lineman Damon Harrison to the Detroit Lions, starters at the time of the trades, will continue to recalibrate their future as they come to terms with another failed season.
"Everyone understands there is business involved with our sport," said Shurmur Monday regarding players being traded, a day before this past Tuesday's NFL trade deadline. "But no, I don't talk about that with the group."
Rookie running back Saquon Barkley, who reached the bye week second in the league with 1,016 all-purpose yards (519 rushing and 497 receiving), said he'll spend his time engaged in self-reflection and preparation.
"Go back, watch film on yourself," Barkley noted. "See what you can do better from the first half of the season. See the things you did well. Try and improve overall in your game."
He added, "Take a little bit of time off to just decompress from football, but also keep aware that you can't take too much time off because you've still got to keep your body in shape for another eight games, and come back ready to work."
The next eight games will be a long examination of where the franchise is headed. The first eight revealed they are moving in the wrong direction.