Cuba Gooding Jr. is Billy Flynn in 'Chicago' and director of 'Bayou Caviar'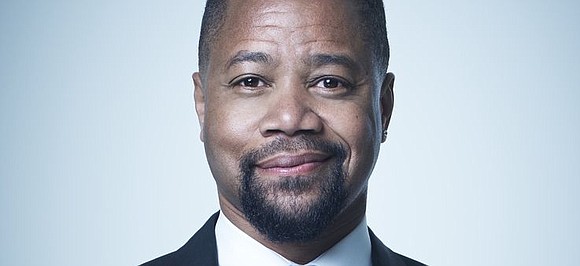 Cuba Gooding Jr. has a larger-than-life personality, so it's not a stretch that he was cast as Billy Flynn, the smooth-talking lawyer in the prohibition-era musical, "Chicago," with music by John Kander, lyrics by Fred Ebb and book by Ebb and Bob Fosse.
Last month, on one of the muggiest days of September, a special press day event was held to introduce journalists and bloggers to the Oscar winner and Emmy nominee. Fresh from a successful run of the aforementioned musical on London's West End, he was poised to tackle the same role on Broadway for a limited run that began Oct.6 and will end Nov. 18.
Gooding made his Broadway theater debut in 2013, in the Tony Award-nominated drama, "The Trip to Bountiful," with Tony winner Cicely Tyson and Vanessa Williams.
That was only part of the news that Gooding delivered, because he was promoting his new film, "Bayou Caviar," which opened in select cities this month. The indie film, which he co-wrote, marks the very first time he took on the role of director.
Gooding's breakthrough role was as Tre Styles in the feature film "Boyz n the Hood" (1991), but for many people of a certain generation, he will be best remembered for his Oscar-winning role as an American football player who wants his agent to "show me the money" in "Jerry Maguire" (1997). Uttering that (now) iconic line placed Gooding in the pop-culture lexicon, but not being one to simply rest on his laurels, he received a Primetime Emmy Award nomination for Outstanding Lead Actor in a Mini-Series or a Movie for his performance as O.J. Simpson in "The People v. O.J. Simpson: American Crime Story" (2016). He has also appeared in "As Good as It Gets" (1997), "Men of Honor" (2000), "Pearl Harbor" (2001), "American Gangster" (2007), "The Butler" (2013) and "Selma" (2014).
Here is an edited conversation with the award-winning actor, screenwriter and now film director.
AmNews: From London's West End and back to Broadway in the same role—playing Billy Flynn in "Chicago." Please, share your thoughts.
Gooding: (laughing) So excited. The last time I was on Broadway was in 2013 with Cicely Tyson and Vanessa Williams, and now I'm doing a musical. A musical that's been on stages around the world for 20-some odd years with a [live] orchestra behind me, it's amazing.
AmNews: This is a Kander and Ebb musical. How did you feel singing?
Gooding: Truthfully? I was scared to death. I worked with a vocal coach in Los Angeles, so when I finally got to London it all clicked, and as you perform more and more with a live audience, it's like a drug.
AmNews: What do you love about playing this Billy Flynn?
Gooding: What's not to love about it? [Billy Flynn] is charismatic and a manipulator. You can feel his love for his profession and those women. I love that!
AmNews: Moving from the topic of Broadway to film. And now you are a film director! How? What? When?
Gooding: (laughing) Yes, I am making my directorial debut. How? My agents sent me a script that I liked and I decided to re-write it and direct it. What is the film, "Bayou Caviar," and along with directing, I also star in the film with Famke Janssen and Richard Dreyfuss. It's about power, money, sex and corruption.
I love directing. I love it. I've been honest and telling people that now I would rather direct. As an actor, there is always a bit of insecurity, because you create this character and you hope that they [directors] interpret it the way that you want them to. But as a director, you get to manipulate not only your performance but everyone else around you. It's like this drug that you get because now you literally get to tell a story that gets to an audience the way you envisioned it.
Cuba Gooding Jr. now on Broadway as Billy Flynn in "Chicago" until Nov 18. "Bayou Caviar" now playing in select cities.