Evelyn Cunningham, the grande dame of Black journalism
Herb Boyd | 11/1/2018, 11:40 a.m.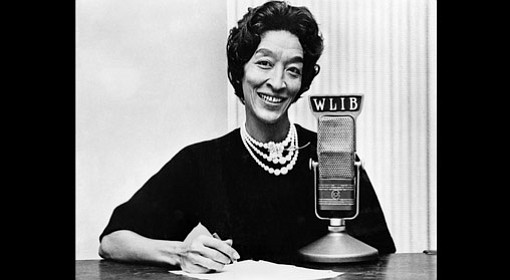 You knew from her regal bearing and the first words out of her mouth that Evelyn Cunningham was not a woman to suffer fools kindly, and that you had better state your purpose and not waste her time. She was a journalist of precision and seriousness and during her long and productive career earned international respect and a formidable legacy.
Cunningham, who passed at 94 in 2011, was as ubiquitous as she was thorough in her accounts, not mincing her words and always determined to speak truth to power. Sitting with her once in her Harlem apartment was like being granted an opportunity to interview a queen, but she had a way of putting you at ease and allowing you to get on with the conversation because her agenda, even in the twilight of years, was packed with appointments.
Both in demeanor and aspect, Evelyn was the grande dame of African-American journalism, and nothing confirms that more than the notables she covered and the incidents and historic moments that were part of her astonishing resume.
She was born Evelyn Elizabeth Long Jan. 25, 1916, in Elizabeth City, N.C. As a child, an obituary in this paper recalled, she expressed, perhaps humorously, that she wanted to pick cotton when she grew up. That desire was enough for her parents—a cab driver and dressmaker—to pack their belongings and head for Harlem.
An inveterate reader with endless curiosity, Cunningham excelled in school, graduating from Hunter College High School in 1934. Nine years later, she had her bachelor's degree in social sciences from Long Island University. Even before acquiring her college degree, she had begun working at the Pittsburgh Courier, beginning by clipping stories from the major white publications and rewriting them for Black readers. In her capacity at the Courier for a quarter of a century, she functioned as a reporter, columnist and city editor. Because of her fearless coverage of the Civil Rights Movement, she was often referred to as the "Lynching Editor."
A recent book by Mark Whitaker, "Smoketown: The Untold Story of the Other Great Black Renaissance," more than captures the essence of her as an intrepid reporter for the Courier, particularly during the civil rights era. At first she was not that excited about Pittsburgh, finding the town smoky, smelling, dark and sleepy, according to Whitaker. "But with her elegant looks and gift for gab, Evelyn quickly turned heads and made friends," he wrote. "Before long she was organizing office parties and playing in the weekly office poker game, the only woman invited to the table."
The adverse effects of Pittsburgh were perhaps understandable for a woman nurtured by the lively, exuberant life in Harlem where she arrived as a child. Always with a nose for the city's happenings, Cunningham roamed the streets and was actively involved in school activities, including her days at Hunter College High School.
By this time, she was already working for the Courier from the paper's Harlem office. Her stories soon caught the eye of the editor, and she was given additional assignments beyond the rewrites from the nation's dailies. When the Civil Rights Movement, led by Dr. King, began to gather headlines, Cunningham was among the first into the fray. During an interview on PBS, she recounted one of her moments with Dr. King right after his house in Montgomery had been firebombed in January 1956. "I dashed over to Dr. King's house and, sure enough, the front of the house was demolished," she said. "He was not hurt. His wife was not hurt."