Imhotep's Guide To Black Events Nov. 1 - Nov. 7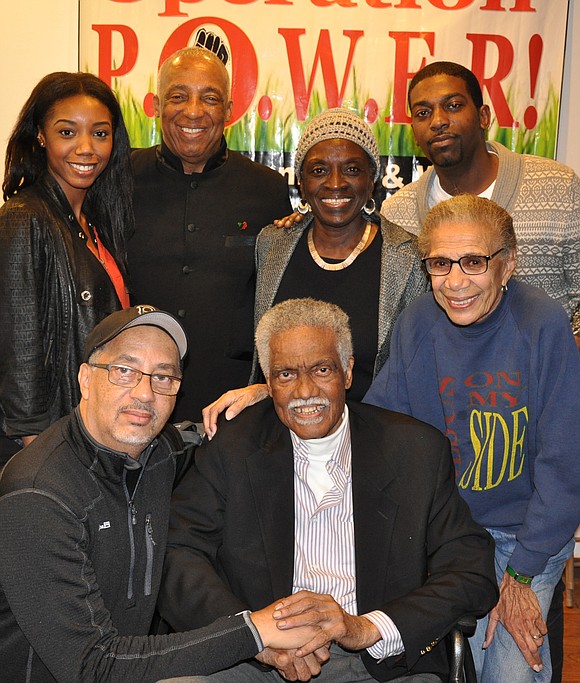 Greetings! As we approach the historic midterm elections and Black Solidarity Day, we continue to urge you and your entire family and extended family to vote in the upcoming midterm elections. Remember, every vote counts. (See "COMMUNITY")
With the NYC Marathon 2018 and the Harlem Celebration of Marathon Week, Lloyd Williams and Voza Rivers from the Greater Harlem Chamber of Commerce joined us to set the stage as the world's best runners come through Harlem USA. Enjoy the exciting musical sounds of The Harlem Miles, Sunday, Nov. 4, from 11 a.m. to 4 p.m., featuring musical salutes at five locations. Visit www greaterharlemchamber.com.
THEATER
The World Famous Apollo Theater and SiriusXM present "Say It Loud…With Your VOTE!," a bipartisan political special at the Apollo Thursday, Nov. 1, at 7 p.m.  The exclusive event, produced in association with SiriusXM, is part of the Apollo Theater Uptown Hall series and will air across multiple SiriusXM channels debuting Nov. 2. Visit apollotheater.org.
"Once on This Island" is the story of a fearless peasant girl who takes a remarkable life journey for love. Circle in the Square Theatre, 235 W. 50th St., New York, N.Y. A Tony award winner. For more information, call 800-447-7400 or visit onceonthisisland.com.
"Smokey Joe's Café," an all new incarnation of the record-breaking Broadway hit, featuring 40 of the greatest soulful songs of the past century. Until Nov. 4. Stage 42, formerly the Little Shubert Theatre, 422 W. 42nd St., New York, N.Y. For information, visit ticketmaster.com.
"Summer: The Donna Summer Musical" brings the iconic disco diva, Donna Summer, to Broadway. The musical includes more than 20 well-known Summer hits. Starring Tony Award winner LaChanze, Anana Dubose and newcomer Storm Lever, who portray three different phases of Summer's life and career. Lunt-Fontanne Theatre, 205 W. 46th St., New York, N.Y. Call 212-379-0370 or visit luntfontannetheatre.tickets.com.
MUSIC
Musical salutes to Hall of Fame recording artists Valerie Simpson, Marcus Miller, Cameo and Fred McFarlane, honoring Ray and Vivian Chew, entertainment philanthropists; Lenny Green, WBLS "Quiet Storm"; and Voza Rivers with the Humanitarian Award and Ronnie Wright with the Legend Photographer Award. Musical Performances by Gordon Chambers, GQ and additional acts to be added. Thursday, Nov. 1, at 7:30 p.m., LaGuardia Performing Arts Center, 31-10 Thomson Ave., Queens, N.Y. Tickets are available online at eventbrite.com. Portion of proceeds to I Touch Myself Cancer Project for Cancer Research. For further information, contact nycollective@gmail.com.
"Amateur Night at the Apollo," every Wednesday night at 7:30 p.m. World famous Apollo Theater, 253 W. 125th St., Harlem. Featuring WHCR DJs. Visit apollotheater.org.
Chew Entertainment and RCA Inspiration present the Voice Your Inspiration Contest. The winning artist will be chosen by public vote and announced Nov. 2, netting a singles deal from RCA Inspiration as well as the opportunity to perform on the Carnegie Hall stage at Ray and Vivian Chew's "A Night of Inspiration." Visit voiceyourinspiration.org.
George Clinton & Parliament Funkadelic, Friday, Nov. 2, at 8 p.m., Sony Hall, 235 W. 46th St., New York, N.Y. For information, visit ticketmaster.com.