Imhotep's Guide To Black Events Nov. 1 - Nov. 7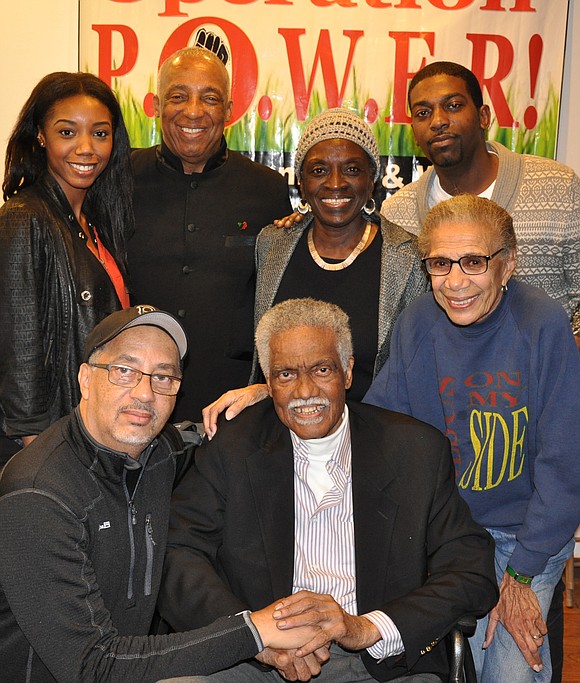 Greetings! As we approach the historic midterm elections and Black Solidarity Day, we continue to urge you and your entire family and extended family to vote in the upcoming midterm elections. Remember, every vote counts. (See "COMMUNITY")
With the NYC Marathon 2018 and the Harlem Celebration of Marathon Week, Lloyd Williams and Voza Rivers from the Greater Harlem Chamber of Commerce joined us to set the stage as the world's best runners come through Harlem USA. Enjoy the exciting musical sounds of The Harlem Miles, Sunday, Nov. 4, from 11 a.m. to 4 p.m., featuring musical salutes at five locations. Visit www greaterharlemchamber.com.
THEATER
The World Famous Apollo Theater and SiriusXM present "Say It Loud…With Your VOTE!," a bipartisan political special at the Apollo Thursday, Nov. 1, at 7 p.m.  The exclusive event, produced in association with SiriusXM, is part of the Apollo Theater Uptown Hall series and will air across multiple SiriusXM channels debuting Nov. 2. Visit apollotheater.org.
"Once on This Island" is the story of a fearless peasant girl who takes a remarkable life journey for love. Circle in the Square Theatre, 235 W. 50th St., New York, N.Y. A Tony award winner. For more information, call 800-447-7400 or visit onceonthisisland.com.
"Smokey Joe's Café," an all new incarnation of the record-breaking Broadway hit, featuring 40 of the greatest soulful songs of the past century. Until Nov. 4. Stage 42, formerly the Little Shubert Theatre, 422 W. 42nd St., New York, N.Y. For information, visit ticketmaster.com.
"Summer: The Donna Summer Musical" brings the iconic disco diva, Donna Summer, to Broadway. The musical includes more than 20 well-known Summer hits. Starring Tony Award winner LaChanze, Anana Dubose and newcomer Storm Lever, who portray three different phases of Summer's life and career. Lunt-Fontanne Theatre, 205 W. 46th St., New York, N.Y. Call 212-379-0370 or visit luntfontannetheatre.tickets.com.
MUSIC
Musical salutes to Hall of Fame recording artists Valerie Simpson, Marcus Miller, Cameo and Fred McFarlane, honoring Ray and Vivian Chew, entertainment philanthropists; Lenny Green, WBLS "Quiet Storm"; and Voza Rivers with the Humanitarian Award and Ronnie Wright with the Legend Photographer Award. Musical Performances by Gordon Chambers, GQ and additional acts to be added. Thursday, Nov. 1, at 7:30 p.m., LaGuardia Performing Arts Center, 31-10 Thomson Ave., Queens, N.Y. Tickets are available online at eventbrite.com. Portion of proceeds to I Touch Myself Cancer Project for Cancer Research. For further information, contact nycollective@gmail.com.
"Amateur Night at the Apollo," every Wednesday night at 7:30 p.m. World famous Apollo Theater, 253 W. 125th St., Harlem. Featuring WHCR DJs. Visit apollotheater.org.
Chew Entertainment and RCA Inspiration present the Voice Your Inspiration Contest. The winning artist will be chosen by public vote and announced Nov. 2, netting a singles deal from RCA Inspiration as well as the opportunity to perform on the Carnegie Hall stage at Ray and Vivian Chew's "A Night of Inspiration." Visit voiceyourinspiration.org.
George Clinton & Parliament Funkadelic, Friday, Nov. 2, at 8 p.m., Sony Hall, 235 W. 46th St., New York, N.Y. For information, visit ticketmaster.com.
RBRM: Ronnie, Bobby, Ricky & Mike, Friday, Nov. 2, at 8 p.m., the Palace Theatre, 19 Clinton Ave., Albany, N.Y. For information, visit ticketmaster.com.
Ms. Lauryn Hill, Friday, Nov. 9, at 8 p.m., Resorts World Catskills, 888 Resorts World Dr., Monticello, N.Y. Call 1-833-586-9358 or visit ticketmaster.com.
Oleta Adams, Saturday, Nov. 10, at 8 p.m., Highline Ballroom, 431 W. 16th St., New York, N.Y. For information, visit ticketmaster.com.
Lalah Hathaway, Sunday, Nov. 11, at 8 p.m., Sony Hall, 235 W. 46th St., New York, N.Y. For information, visit ticketmaster.com.
TV-FILM
Netflix presents "Quincy," a new documentary (streaming now) written and directed by Quincy Jones' actress daughter, Rashida Jones, and documentarian Alan Hicks. Check listings.
"Say Her Name: The Life and Death of Sandra Bland." In 2015, Sandra Bland, a politically active 28-year-old Black woman from Chicago, was arrested for a traffic violation in a small Texas town and later was found hanging from a noose in her jail cell. Although ruled a suicide, her death sparked allegations of a racially motivated police murder. HBO Documentary Films. Check Listings.
COMMUNITY
Calling All Voters! Voters are being urged to check their status by going to voterlookup.elections.ny.gov, where they can enter their name, date of birth, county and ZIP code. If no match is found or the voter's status is not listed as active, the voter should contact the Board of Elections.
The Black Solidarity Day Coalition will take to the streets Monday, Nov.5, 2018, in commemoration of the work of the founder Dr. Carlos Russell. Join in A Day of Absence—No Work! No School! No Shopping! Every year on the day before Election Day, Black Solidarity Day is recognized as A Day of Absence for Back people in the United States. It is a day that we make an assessment of our history, our current conditions and the way forward for our people. For more information or endorsements call 718-398-1766 or visit www.d12.org.
The National Action Network NYC Education and Auxiliary will honor the late Dr. Carlos Russell in a distinguished educators' forum. Monday, Nov. 5, at 5:30 p.m. at Brooklyn Borough Hall, 209 Joralemon St., in Downtown Brooklyn. Keynote speaker and student of Dr. Russell, the Rev. Al Sharpton. Contact nanedcommittee@gmail.com.
Imhotep Gary Byrd's "Express Yourself," Sunday evenings from 7 p.m. to 9 p.m. and simulcast over WLIB 1190AM. The full show can also be heard on HD radio at WBLS-HD2 and at WBLS.com,WLIB.com and NextRadio. IGB is also heard on WBAI-FM 99.5 with Radio GBE: "The Global Black Experience" and "The Global Beat Experience," Fridays 6 p.m. to 8 p.m. Archived online at www.wbai.org. For bookings or to reach us about your GBEvent or for comments, email co-editor Nyerere, nyerere1@aol.com, find us at Imhotep Gary Byrd on Facebook or call 212-592-3279.