Attorney General-elect Letitia James—A history of firsts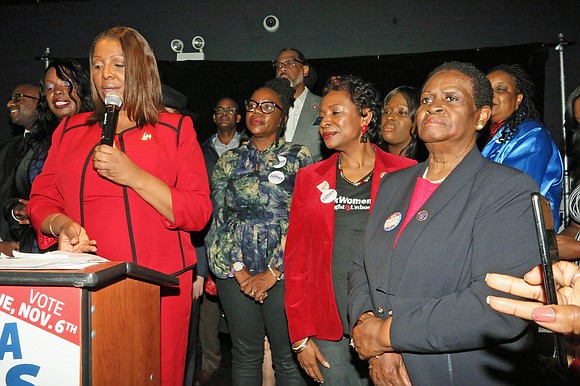 "This victory is an incredible milestone for our communities and all those whose blood, sweat and tears paved the way for us," Letitia 'Tish' James said to the New York Amsterdam News mere hours after she was elected (Tuesday, Nov. 6, 2018) to the Office of Attorney General and is set to become the first African-American woman to hold statewide office in New York State.
Brooklyn-based James said, "As our next attorney general, I will fight to protect the rights of all New Yorkers and stand up to the very real challenges coming from Washington, D.C. This is a historic day and the end of an exciting campaign—but it is just the beginning of years of hard work on behalf of New Yorkers." 
Politicos such as former Assembly Member Annette Robinson and current Assembly Member Latrice Walker were among the attendees at James' watch party at Bed-Stuy's Milk River Club.
The excitement was palatable. In the mix were notables such as attorney Esmerelda Simmons and Professor Brenda Green. People milled about in the trendy spot both listening to a sharp DJ and watching a rapidly flowing big screen stream of election-night results. Cheers were raised intermittently as popular outcomes were announced—jeers, too. People loudly opined about the shocking Florida and Georgia results for gubernatorial hopefuls Andrew Gilliam and Stacey Abrams, respective, which were lower than expected.
State Senate Speaker Carl Heastie said that James, "has undoubtedly blazed a trail that will help change the face of leadership in New York and inspire others to do the same."
James vigorously campaigned her way a 62 percent to 35 percent win against political newcomer, Republican candidate attorney Keith Wofford.
The special election had its roots in the sudden May resignation of former Attorney General Eric Schneiderman, after a series of accusations of physical and sexual abuse of women.
All around the watch party hall and across the Atlantic Avenue, Brooklyn campaign headquarters were signs proclaiming James to be "The People's Lawyer," along with a poster with a crown tipped slightly to the side a la Bed-Stuy rapper Notorious B.I.G.
Heastie said, "Now more than ever, New Yorkers need a champion who understands the importance of progress and equality and will stand up for our constitutional rights. Tish James has dedicated her life to defending the rights of others and as the People's Lawyer, I know she will serve New Yorkers with the same vigilance."
James said she will work independent of the governor's office when necessary, and she has said loudly and often that she would challenge the Trump regime where she felt he needed to be checked.
As fate would have it, on the heels of a contentious news conference held by Donald Trump hours after the election, on Wednesday afternoon, the news broke that the president asked Attorney General Jeff Sessions to resign. Called a "constitutional crisis" and "state of emergency" by cable news political observers, the timing of the announcement came as a distraction from the fact that the Democrats had won the New York State Senate. James said, "Nobody is above the law, not even the president of the United States. Firing the nation's top law enforcement official does not give Donald Trump a free pass, it only raises further suspicions. We cannot allow anything to interfere with Special Counsel Robert Mueller's investigation. President Trump must commit to allowing this investigation to continue unhindered, and Mr. Sessions' replacement must likewise recuse himself.
"The very foundation of our democracy is at stake. I want New Yorkers to know that as attorney general, I will hold those in power accountable, and I will serve as a backstop to make sure the special counsel's work continues."