Attorney General-elect Letitia James—A history of firsts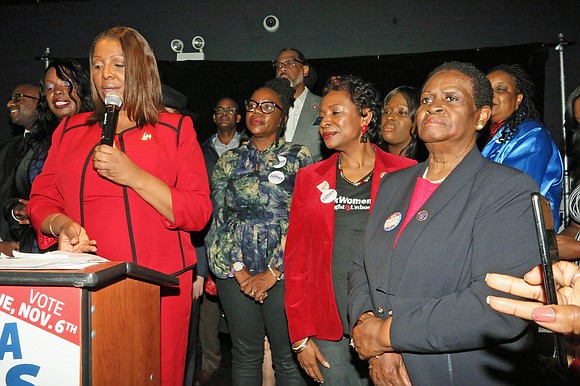 On election night James warned that Trump "should know that we here in New York, and I, in particular—we are not scared of you." She will, she said, "be shining a bright light into every dark corner of his real estate dealings, and every dealing, demanding truthfulness at every turn."
With her current public advocate post about to be available, names such as Assemblyman Michael Blake, Brooklyn Borough President Eric Adams and City Council Member Jumaane Williams have been floated as contenders for the post, which is one step in City Charter terms from mayor.
Williams said that election night showed progressive grassroots energy led to sweeping change in the New York State Senate and the U. S. House of Representatives. Williams said, "History was also made in electing New York's first Black woman attorney general. And while not every battle was won, this repudiation of the bigotry of Trump and his allies will reverberate for years, so I thank the countless individuals who made it possible. I also thank voters for persevering through the long lines and faulty equipment of a broken electoral system in New York City."
On Election Day, there was record turnout of voters, a host of polling site problems from no power cords, to machines not working, to long lines keeping people in the rain.
Williams said, "Elections reform and major changes at the Board of Elections must be among our top priorities in the city coming out of last night."