Black solidarity sets the agenda
Amadi Ajamu | 11/8/2018, 12:39 p.m.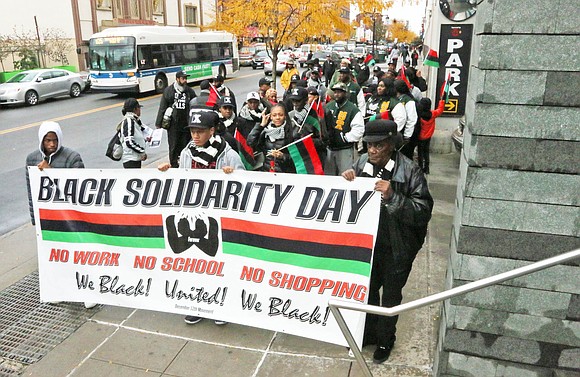 The Black Solidarity Day Coalition 2018 recaptured the essence of Dr. Carlos Russell's initial vision of collective political and economic action in the Black community. "It is a day of absence," stated Iman Essiet of the December 12th Movement. "No work, no school and no shopping. It is held the Monday before Election Day each year as a day for our community to come together and reflect on our history, analyze current conditions and plan our future together in unity. This year, we are focusing on education, a march and rally against the ethnic cleansing of our communities, voting and the real count of Black people in the upcoming 2020 U.S. census."
The day began in the morning, with a Teach the People program at Brooklyn's Restoration Plaza, attended by more than 200 students, ranging from elementary to high school age. Music teacher Ahmed Abdullah from P.S. 3 brought his students, many of whom performed songs and music. Brother Hayes brought students from M.S. 113. The Van Siclen Community School chorus sang a South African song, "Sumanglaza." Nelson Mandela H.S. students recited poetry and essays focusing on Black Solidarity Day. Kuzaliwa Kojo Campbell, an assistant principal at Van Siclen Community School and organizer of the event, was master of ceremony, and Omowale Clay of the December 12th Movement led the students in chanting, "What's today? Black Solidarity Day!" and "Black Power!"
Former Assemblywoman Annette Robinson, New York City Councilman Robert Cornegy and Dr. Carlos Russell's sons Khari and Carlos Jr., also spoke.
The afternoon march assembled at Restoration Plaza at Fulton Street and Marcy Avenue. More than 100 people of all ages walked down Fulton Street and through the community in an "Our Streets!" audacious march and rallied at the intersection of Nostrand Avenue. They agitated and energized the entire community. People on the streets stopped in their tracks; many spontaneously joined in. Despite attempts to intimidate the marchers, the police were embarrassingly outmaneuvered in the streets. The people marched on in unity against the ethnic cleansing of Bedford-Stuyvesant and Black communities across the U.S. chanting, "Don't move out, don't sell out! Never give up! Black Solidarity Day! Whose streets? Our streets!"
The evening forum was held at Siloam Presbyterian Church. Viola Plummer, chairperson of the December 12th Movement, moderated. Speakers included the Rev. Herbert Daughtry of the House of the Lord Church and members of his prisoner re-entry program, former Assemblyman Roger Green, Assemblyman Charles Barron with several constituent tenant organizers for the Lloyd Pink Houses and Minister Abdul Hafeez Muhammad of the NYC Nation of Islam. An extraordinary performance by Jersey City poet Rashad Wright's trio included Eze on keyboards and vocal, and Wiser on guitar.
Former Assemblyman Roger Green spoke directly to the need for Black solidarity. "Dr. Carlos Russell founded Black Solidarity Day on the notion that it would serve as an antidote to the pathology of white supremacy. This project of white supremacy, which was established by European imperialism, colonialism, the institution of chattel slavery, Jim Crow and now the alt-rightism, was and is a pathology, which comes from the Latin 'pathos,' which means disease. This disease necessitates us as a people to build up our antibodies. We need to make our bodies stronger in anticipation of contact with this disease. There is no cure. It's intractable. What we can do is to limit our intake and our internalization of it. As long as white folks are going to be on this planet, there is going to be white supremacy. We have to do something among ourselves to build our strength. Build our own communities, institutions, schools, businesses and protect our history and culture, protect ourselves from it."
Stefani Zinerman, spokeswoman for NYC Black Leadership Advisory Coalition for Census 2020, laid out the necessity for Black people to participate in the 2020 census to be counted in real numbers. "Our economic contribution to this country is over $1 trillion per year," said Zinerman. "Without our money, this country would immediately decline sharply. We must be counted accurately in order to get the resources and services our communities are owed by law. More importantly, we can't allow them to divide us by nationality, language, etc. We all must be counted as Black, period."
The Black Solidarity Day Coalition is building toward the 2019 50th Anniversary.
"We must start now to build a nationwide no work, no school, no shopping impact," concluded Viola Plummer. "A day of absence to concretize our political and economic power! We Black!"