The Chisholm Legacy
By Yolanda Caraway, Leah Daughtry, Minyon Moore Co-Authors of For Colored Girls Who Have Considered Politics | 11/8/2018, 1:31 p.m.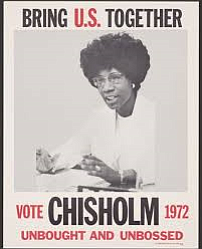 While Shirley Chisholm's incredible journey has clearly provided a direction, wisdom, and INSPIRATION for the many women leaders to come after her, to date, there have only been 41 African American women to serve in the House, (including House delegates), and the Senate.
Today, there are 21 African American women serving in the U.S. Congress. There are fewer or none, to ever serve in statewide or local elective offices.
The 50th Anniversary of Rep. Chisholm's election offers our country a chance to renew our commitment to Black women, not only in elective office, but within the ranks of true political power. Black women will disregard the old, conventional ways of wielding power, and owe little to nothing to traditional institutional structures of power. In the last year, we have seen black women create the margin of difference in races in Alabama, Virginia, Florida, and Georgia.
It is no secret that black women are the most consistent, the most loyal base of Democratic voters.
In this election year, according to the Center from American Women and Politics at Rutgers, there are 41 African American women running for House seats, and 16 African American women running for Statewide Executive Elected Offices.
This is historic!
Clearly, this has become paramount, and a political priority, that the Democratic Party, and its Congress reward and deliver on its promise of inclusiveness.
Rep. Chisholm had the foresight and saw this day coming.
In 1977, she challenged Rep. Thomas Foley (WA) for the chairmanship of the House Democratic Caucus. She lost her bid by 76 votes, and the Democratic leaders saw fit to give her the position and title of "Secretary" of the Democratic Caucus.
This year, the House Democratic leadership has the chance to not only talk about inclusion in the leadership ranks, but to show it. Rep. Barbara Lee has officially put her bid in to follow in Rep. Chisholm's footsteps and lead the Democratic Caucus, thereby becoming the highest ranking African American woman, ever, in Congress.
Although Rep. Chisholm tried – this has never been done.
If Rep. Lee succeeds, this ensures African American women are represented in the leadership in Congress and the legacy of Rep. Shirley Chisholm lives forever.