'Jewelry: The Body Transformed' at the Met
Renee Minus White | 11/8/2018, 4:15 p.m. | Updated on 11/8/2018, 4:15 p.m.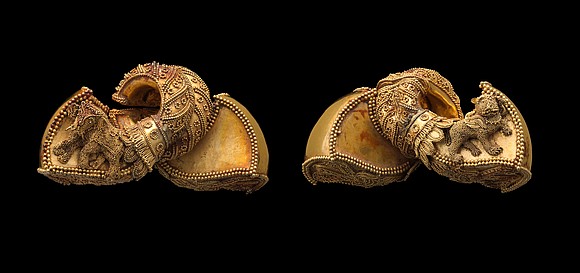 What a dazzling exhibit! The Metropolitan Museum of Art presents "Jewelry: The Body Transformed," from Nov. 12, 2018, to Feb. 24, 2019. The exhibit addresses the following questions: What is Jewelry? Why do we wear it? What meanings does it convey? It's a global conversation, and jewelry is one of the most personal and universal of art forms. With 250 objects drawn nearly exclusively from The Met's collection, the jewelry is intriguing, historical and educational. It was so nice to see a photograph of Josephine Baker in The Seductive Pearls part of the exhibit. Shown along with sculptures, paintings, prints and photographs, pieces included an exquisite array of headdresses, earrings, necklaces, broaches, belts, bracelets, rings and a pair of copper sandals with toe covers.
"Jewelry is one of the oldest modes of creative expression—predating even cave painting by tens of thousands of years—and the urge to adorn ourselves is now nearly universal," commented Max Hollein, director of The Met. "This exhibition will examine the practice of creating and wearing jewelry through The Met's global collection, revealing the many layers of significance imbued in this deeply meaningful form of art."
Just think, if your body is a stage, jewelry is one of its sparkling performers. Jewelry has crossed cultures through history. With regards to our style and bodies, jewelry has accentuated the fashion look, enhanced it and transformed it. It's an essential part of our rituals, including marriage, death and even our battles. How many times have you complimented friends on their necklaces or earrings?
Jewelry is powerful, and it actually interacts with your body and yourself.
The show opens with floor-to-ceiling glass columns that showcase precious jewelry. Thematically, the exhibit is organized in several sections. The Divine Body examines the earliest conceptions of jewelry and its link to immortality. The Regal Body explores the use of jewelry throughout history. The Transcendent Body focuses on how jewelry is used to traverse the temporal and spiritual realms. Here you will find sculpted images and beautiful jewelry from India and Africa. The Alluring Body shows how jewelry engenders desire. "Allure is something that exists," wrote Diana Vreeland, the late-great Vogue editor. 'It's like a memory and it pervades." The Resplendent Body focuses on materials and techniques used for the purposes of ostentation.
Several educational programs complement the exhibition, along with a lavishly illustrated catalogue that features essays by Met curators from across the museum. Published by The Metropolitan Museum of Art and distributed by Yale University Press, the book is available for purchase at The Met Store (hardcover $50). "Jewelry: The body Transformed" will test assumptions about what jewelry is and has been. It will also confirm that these precious objects are among the most potent vehicles of cultural memory.