Keitany earns another NYC Marathon Title
Vincent Davis | 11/8/2018, 3:09 p.m. | Updated on 11/8/2018, 3:09 p.m.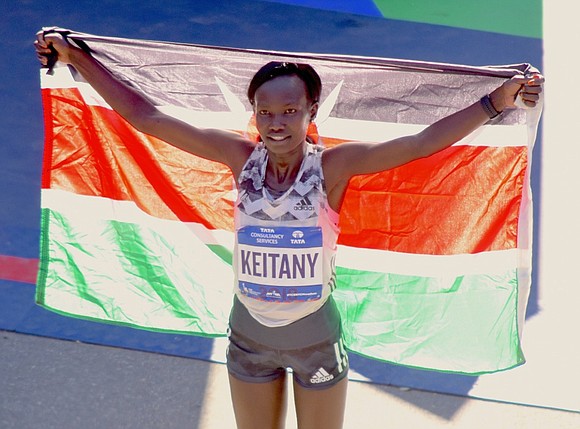 A record number of 52,812 runners crossed the New York City Marathon finish line Sunday, breaking the record of 51,394 finishers established here in 2016. It was the most finishers of any marathon in the world.
All of the 2017 defending champions returned to participate in this year's marathon event: Geoffrey Kamworor, the men's champion; Shalane Flanagan, the women's champion; Marcel Hug, the men's wheelchair champion; and Manuela Schar, the women's wheelchair champion. But the greatest anticipation was for the women's race. It was not only about Flanagan's return, the first American woman to win the New York City Marathon in 40 years, but also about the return of the three-time champion, Mary Keitany from Kenya.
Keitany lost last year's race by 61 seconds, coming in second place after three straight marathon victories, 2014, 2015 and 2016, but left no doubt of her interest in regaining the champion's title on Sunday.
Keitany broke away and distanced herself from the lead group of women runners, which included Flanagan, 37, from Oregon and second place finisher Vivian Cheruiyot, 35, also from Kenya, after crossing the Pulaski Bridge in Brooklyn, the half way point of the 26.2 mile run.
Keitany led at mile 16 after crossing the 59th Street Bridge on to mile 19, which goes from First Avenue in Manhattan into the Bronx, the Boogie Down. The Kenyan's 18th mile, which she ran in 4 minutes and 55 seconds, was just five seconds slower than the men's fastest time at the section of the course.
Keitany's winning race time of 2:22:48 was the second fastest women's time in the marathon's history, 3 minutes and 13 seconds ahead of Cheruiyot in second, and 3 minutes and 33 seconds ahead of Flanagan, who finished third.
"I can say the course record was not in my mind," said Keitany, who looked as if she could have run longer without slowing down. "For me, winning was very important."
According to Keitany, it was just a regular day. There was no special preparation.
"Nothing was special today. I was just ready for the race," said the champion after her fourth win in five years.
"I am happy to be second today," said Cheruiyot, a four-time Olympic track medalist, and this year's London Marathon winner. She was second, Flanagan third, but it wasn't even close.