Lisbon: city of old and new
SHERYL NANCE-NASH | 11/8/2018, 2:32 p.m.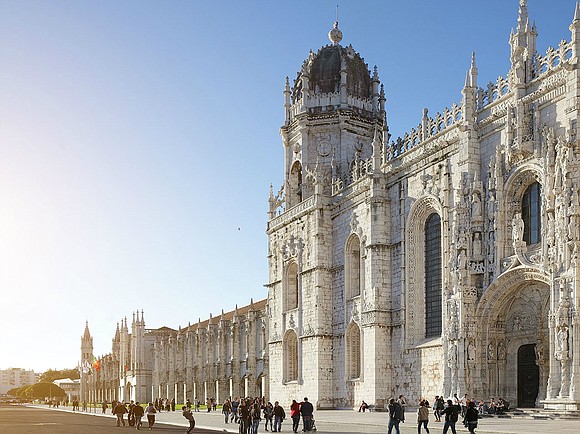 It's not surprising that last year for the first time, Lisbon, Portugal won the World Travel Award for Best European Destination. If you visit, you'll quickly see why.
This city merges the old and new so seamlessly it's poetic. Centuries-old buildings alongside all things modern feels quite right. Lisbon is home to Livraria Bertrand, which opened in 1732 and is the oldest bookstore in the world. Then there's the Mosteiro dos Jerónimos, a magnificent monastery that is in Lisbon's Belem district. Built in the early 1500s, Mosteiro dos Jerónimos is one of the most decorated churches in Portugal, with its vaulted ceilings and ornate altar. A massive stone portal on the southern entrance is striking with its carvings of saints, complex shaped pinnacles and much more.
The site of a massive manufacturing complex that housed a fabric company back in the 1800s is now the LXFactory, an enormous mixed-use space that is home to startup companies, photography studios and other offices, as well as trendy restaurants and cafes, concert halls, galleries and shops.
Lisbon is very much about neighborhoods—each different with its own vibe. Chiado, the arts and culture district, is full of galleries and shops. Pink Street in the Bairro Alto District is the heart of Lisbon's night life, with plenty of bars and clubs. You'll also want to be sure to make your way to the city center to one of the hottest spots in town, the Sky Bar, the rooftop bar at the legendary, luxurious five-star Tivoli Avenida Liberdade, a Lisbon fixture since the 1930s.  Know that you're in for spectacular panoramas, creative cocktails and signature drinks such as Portuguese Soul, made with white port, Disaronno, scented black tea, star anise and cinnamon. Whether with a DJ or live music, this place rocks. Nearby Liberty Avenue is beloved for its wide sidewalks and trees that form an arch of sorts down the street. It is a main thoroughfare. Designer shops and restaurants line the street. Scenic Liberty Street is bustling. Locals say it is their Avenue des Champs-Elysees. Depending on the day, you might find vendors up and down the street for blocks, selling jewelry, antiques, books, crystal, porcelain, leather goods and just about anything.
The neighborhoods have some things in common, majestic churches, statues that pay homage to heroes and great food and drink—tapas, seafood right from the Portuguese coast, strong coffee and pastries to die for. You can't leave Lisbon without waiting in the long line at Pasteis de Belem, where more than 20,000 pastries are made and sold daily. You'll have no trouble finding live music, especially in the evenings. It's all about Fado music, with tales of loss, of love lost, sad but beautiful, stirring and sentimental.
Lisbon is also cultural. Museums are plentiful. Art is everywhere, even in the cobblestone pavement. Calcada portuguesa come in a variety mosaic patterns, making many streets something to see. Thanks to Moorish tradition, there are tiles on buildings. Essentially pieces of art, they're called azulejos. Blue is very much a favorite color. It's no wonder the city is so enchanting.