Manning maintains his spot for now as calls for change continue
Jaime C. Harris | 11/8/2018, 2:20 p.m. | Updated on 11/8/2018, 2:20 p.m.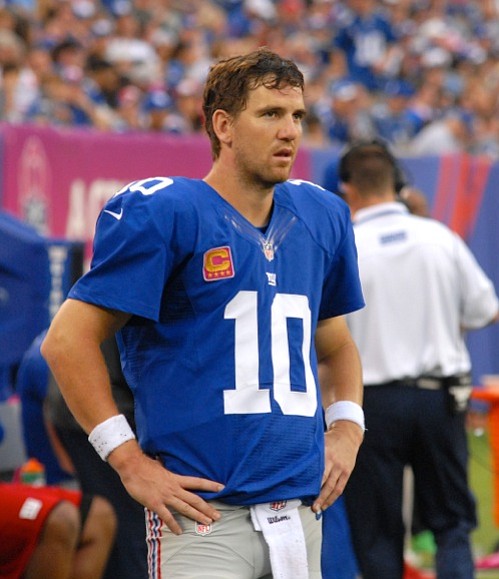 The Eli Manning must go coalition remains loud and persistent, disturbed by Giants head coach Pat Shurmur's decision to maintain the status quo and keep Manning in the role of starting quarterback ahead of rookie fourth-round pick Kyle Lauletta, who was arrested last week in Weehawken, N. J., on his way to the Giants practice facility and charged with reckless driving, disregarding an officer's directions and multiple disorderly persons offenses, among other charges.
"I told you, he is starting on Monday," Shurmur said to the media Monday regarding Manning's status. "You roll with it how you want, with the idea that he's going to get us on a run here, and there will be no decisions to be made. In other words, part of the conversation was we trust you, we want to work with you and we trust the fact that you're going to get in there and help us win football games."
Although the 37-year-old quarterback is only part of the Giants' issues as they sit at 1-7 coming out of their bye week to face the 2-7 San Francisco 49ers on the road Monday, he is a convenient target of the fans' long-held frustration for the team's failures.
It's a forgone conclusion that Manning will not be the Giants' starting quarterback next season because general manager Dave Gettleman and Shurmur will look to establish the franchise's future at the position. The 15-year veteran has labored behind an inept offensive line this season, a continuation of a Giants' weakness that dates back more than four years. Despite remaking the unit through free-agent signings and draft picks, the offensive line is still one of the worst in the NFL. Pro Football Focus, which conducts quantitative analysis on teams and individual players, ranks the Giants offensive line 27th out of 32 teams through Week 9.
Nevertheless, Manning's detractors have not given him the benefit of the doubt and cite his lack of mobility and limited capacity to make plays with his legs outside of the pocket for the Giants' stagnant offense, which, aligned with its offensive line ranking, is 27th in the NFL in scoring average at 18.8, even though they boast two of the dynamic and productive playmakers in the sport in wide receiver Odell Beckham Jr. and rookie running back Saquon Barkley.