Thank you and R.I.P. Mr. Roy Hargrove Jr.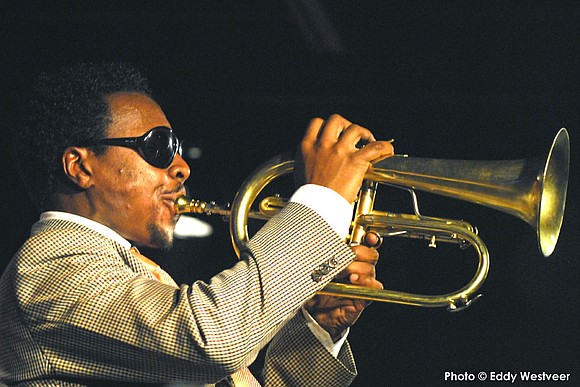 Was one of those loooong work weeks and the forthcoming week shapes up to be an exact replica. There is a respite though. Saturday night at The Apollo Music Café, inside the Apollo Theater, we're settled in for a guaranteed night of feel gooderation. The Hamiltones are in the house! How can we lose? The hostess is on one as it's her birthday and the enthusiasm is infectious. We ready! Right before she brings out the headliners, she issues a shoutout to Roy Hargrove Jr.? Huh? What happened? That quick, the thoughts of having Anthony Hamilton jump onstage for a few joints with his folk turn to memories of the collaboration of Hamilton and Hargrove with "Kwah/Home" (from the RH Factor album "Hard Groove.") Now we got to find out what's happening. There it is in black and white: "Roy Hargrove died on Friday, Nov. 3, in Manhattan's Mount Sinai Hospital of cardiac arrest."
Currently, we're amid appreciation of the music of the '90s. So, while we reminisce on the not so distant glorious past of the music of that decade, we must acknowledge the contributions of Roy Hargrove and his instrument of choice, the trumpet. During the '90s, Hargrove was the glue that held together jazz, be-bop, soul, R&B and hip-hop. A Dallas native, Hargrove, as a student at the Booker T. Washington High School for the Performing and Visual Arts, an arts magnet school, was sought by Wynton Marsalis, who was impressed with what he heard. After completion of his high school education, he spent a year in Boston at the Berklee College of Music and at 20 made the move to New York City, where he soon after recorded his debut album "Diamond in the Rough." From there his trajectory as a musician was boundless and integral. After cementing himself in jazz, he contributed classic performances to D'Angelo ("Send It Up"), Erykah Badu ("Green Eyes") and Common ("Coldblooded") as part of a music collective known as the Soulquarians. Consisting of rotating core members Questlove, Bilal, Common, Roy Hargrove, Erykah Badu, D'Angelo, James Poyser, Mos Def, Q-Tip, Talib Kweli, Pino Palladino, J Dilla and Raphael Saadiq, the music of that clique reclaimed the soul of Black music. A fellow Soulquarian member recalled via an Instagram post, "I know I've spoken in every aspect of Soulquarian era recording techniques, but even I can't properly document how crucial and spot on Roy was with his craft man. We NEVER gave him instructions: just played the song and watched him go—like 'Come back in 45 mins, I'll have something.'"
Hargrove reached the pinnacle of the recording industry garnering Grammy wins in 1997 with his album "Habana," an experimental afro-funk fusion that hauled in the best Latin jazz performance, and in 2003 with supergroup Directions in Music featuring pianist Herbie Hancock and saxophonist Michael Brecker—the group won best jazz instrumental album. For Hargrove, however, the only thing that mattered was the music. In an interview with Rivera Jazz Club, Hargrove surmised, "The whole reason why I play is for God. I'm in service. What I'm here to do is to touch people through music, which is my art. It's streamlined directly from the creator, through me and to the people. I try to keep that channel as open as possible."
That channel has closed for him physically, now that the Pearly Gates have opened, but we got a big piece of your soul right here still. RIP my dude.
Over and out. Holla next week. Til then, enjoy the nightlife.