Battle for Florida and Georgia gubernatorial races continues
By Stacy M. Brown, NNPA Newswire Correspondent @StacyBrownMedia | 11/12/2018, 6:39 a.m.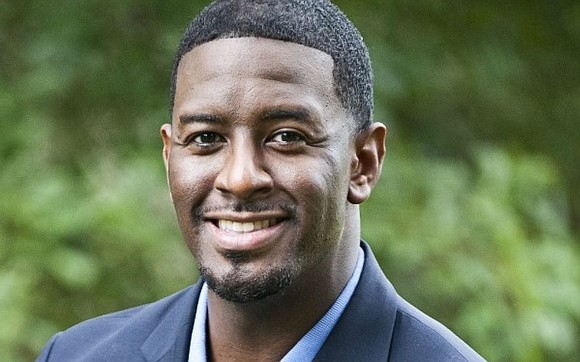 The heartache expressed on Tuesday night by the many supporters of Stacey Abrams has suddenly turned to hope after absentee and other ballots counted brought the Georgia Democratic governor hopeful closer to a runoff with Republican Brian Kemp.
And, after conceding to Republican Ron DeSantis in Florida on Election night, Tallahassee Mayor and Florida Democratic Gubernatorial candidate Andrew Gillum found new life when votes were finally tabulated from the more blue areas of the state like Broward and Miami Dade. Gillum said he conceded based on "the limited information we had."
That's now changed.
As of Friday morning, Gillum was just 0.44 percentage points behind DeSantis, a margin of about 36,000 votes. A margin within 0.5 percentage points triggers an automatic recount, something the Florida Secretary of State would still have to approve.
"On Tuesday night, the Gillum for Governor campaign operated with the best information available about the number of outstanding ballots left to count," Gillum spokeswoman Johanna Cervone said in a statement. "Since that time, it has become clear there are many more uncounted ballots than was originally reported."
The campaign reportedly has hired attorney Barry Richard, who represented the Bush campaign during the contentious 2000 presidential election in Florida, who was "monitoring the situation closely and is ready for any outcome, including a state-mandated recount," Cervone said. "Mayor Gillum started his campaign for the people, and we are committed to ensuring every single vote in Florida is counted."
Meanwhile, after initial and unofficial tallies in Georgia gave Kemp a seemingly insurmountable lead, absentee and other provisional ballots drew Abrams ever closer and also in the range of recount and possibly a runoff.
"All of the votes in this race have not been counted," Abrams campaign manager Lauren Groh-Wargo said at a press conference on Thursday.
Under Georgia law, if no candidate achieves a majority, then a runoff election will be held. Kemp currently leads with 50.3 percent of the vote. Abrams is also close to the possible threshold to earn a recount in the race, which, following his resignation, Kemp would now not oversee.
"Brian Kemp is 25,622 votes above the threshold for a runoff election. Twenty-five thousand votes of nearly four million cast are at issue in this race," Groh-Wargo said. "By [Kemp's] own admission, there are at least 25,000 outstanding votes, and hundreds if not thousands of more that we are learning about and discovering every day."
The state chapter of the NAACP filed a pair of lawsuits claiming that students at Spelman College and Morehouse College were improperly forced to vote with a provisional ballot – or dissuaded from voting at all – because their names didn't show up on voter registration lists.
And the second, according to the Atlanta Journal Constitution, seeks to preserve the right for voters in the Pittman Park Recreation Center area to cast ballots.
That was the precinct where massive lines formed because of too few polling machines. Even after five additional voting devices were delivered, some people waited four hours at the Atlanta site.