No. 21 for the Bronx Giants is Alexis Wilder—and she's their quarterback
Vincent Davis | 11/15/2018, 2:20 p.m. | Updated on 11/15/2018, 2:20 p.m.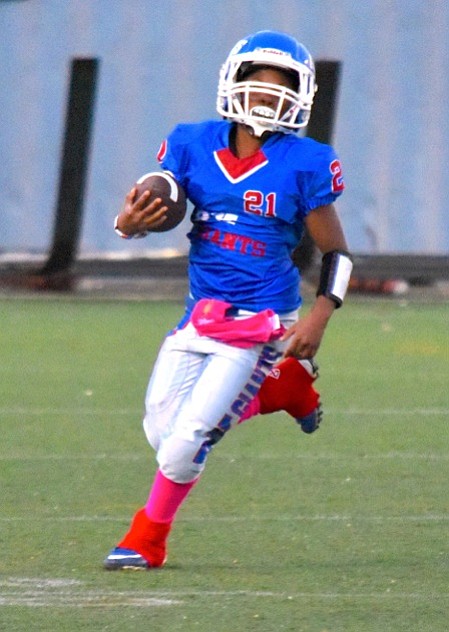 When the players took off their helmets during the timeout, if you looked closely, it appeared that No. 21 was a girl. Returning to the field, at the line of scrimmage, No. 21 lined up behind center. "Oh wow!" No. 21 is not only a girl, she's the quarterback of the Bronx Giants. It was their championship game against the Bronx Falcons, another Bronx football program, being played at Evander Childs High School, way uptown on Gun Hill Road in the Boogie Down Bronx.
A few years ago, Alexis Wilder was a member of the Bronx Giants' cheerleading team. One day she decided that she didn't want to cheer anymore. She went to her father, Thomas Wilder, one of the head coaches of the Bronx Giants Football and Cheer program, and said, "I want to play football."
Caught completely off guard, her father thought about it really hard and for a long period of time. He also sought out advice to make the very best decision.
"I was really surprised. Finally, my wife Robin and I said yes. Our decision was based on her build, her upper and lower body strength and her toughness," said Wilder. "She had speed, but needed to learn the game, and develop football skills."
When she first began training, she trained as a runningback. As Wilder developed during her second year of playing, she became more adept at catching and throwing a football. Unexpectedly, she gravitated to the quarterback position.
Wilder, now 11 years old, 4-foot-8, 100 pounds, a fan of the New York Giants and Marshawn Lynch, also plays tenor saxophone in her school band, has really good grades and is the younger sister of two brothers who also play football. Kevonne Wilder at Brunswick High School in Greenwich, Conn., and Malik Wilder at the University of Rhode Island.
"I trained her as I did my two boys," noted Wilder, her father and coach.
"She was very determined to improve and develop the skills needed to play. After practice, Lexi would always ask, 'What did I do good today? What do I need to work on?'"
Even though her Bronx Giants team won the championship, Wilder thinks that the team still needs some improvement.
"I did good. Our team did good, but we need to work on our blocking and communication," said the young QB. "I think our line needs to read the defenses better and call it out, so that I don't get sacked."
Wilder likes playing football, even with the sacks, because it makes her mentally tougher. "It helps me build trust in people that I don't know. We work hard together," she said. "I know that my receivers will catch the ball if I throw the ball correctly."