NYAC celebrates 150 years
Lois Elfman | 11/15/2018, 2:23 p.m. | Updated on 11/15/2018, 2:23 p.m.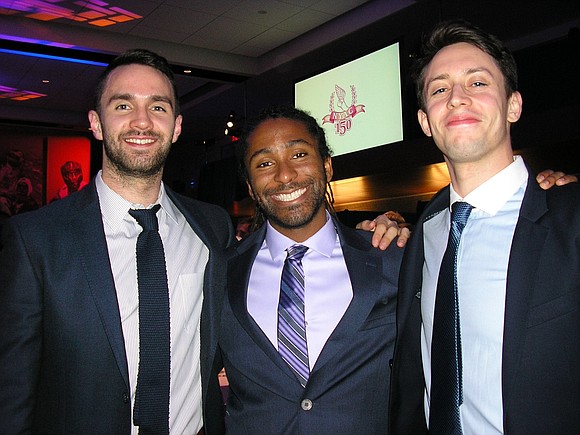 The festively decorated gymnasium at the New York Athletic Club was filled with champions, many of whom shared connections through sport. A team handball player who was on the same Olympic team as an iconic basketball gold medalist stopped by to share a memory. Today's athletes gravitated to legendary long jumper Bob Beamon to express their admiration.
"The community here is great. It's a lot of great support everywhere. It's cool being connected to all these athletes and seeing their different perspectives," said water polo world champion Jordan Raney, a new member of the club.
The 2018 NYAC All Sports Dinner, which also served as a celebration of the club's 150 years, honored sporting achievements by the club's members. It also celebrated sport itself, as guest of honor Thomas Bach, president of the International Olympic Committee, so eloquently expressed.
"The power of the Olympic Games is their universality and the global appeal," said Bach. "The Olympic Games show us how our world could look if we all were guided by the Olympic values of peace, solidarity and respect. The Olympic Games have the power to bring all of humanity together in all our diversity."
Fencer Kat Holmes, world champion in team epee, has been affiliated with the NYAC for approximately four years, and has trained at the club for longer than that. She felt a special connection to Bach, himself an Olympic fencer. "[Olympians] have a common understanding of what it takes to get there," said Holmes. "Everybody here has that mutual understanding regardless of where they come from or what sport they play."
It was a reunion for five-time Olympic medalist in women's basketball, Teresa Edwards, and four-time Olympic medalist in freestyle wrestling, Bruce Baumgartner. At the 1996 Olympic Games in Atlanta, Baumgartner was the flag bearer for Team USA and Edwards delivered the oath for the athletes.
"Once you see people like Bruce, you see the history coming through and you revert back immediately," said Edwards, who also served as U.S. Chef de Mission at the 2012 London Olympics. "It feels like you came home."
The NYAC played an integral role in the founding of the Modern Olympic Games. Its members have won 271 medals: 151 gold, 54 silver, 66 bronze. Jason Read, Olympic gold medalist in rowing, said NYAC is welcoming, inspiring and historic. "The NYAC inspires all of us to be the very best, not just in athletics and in sport, but in our communities and in life," said Read. "That is the lasting legacy of the club."