Racist violence against Black women on rise?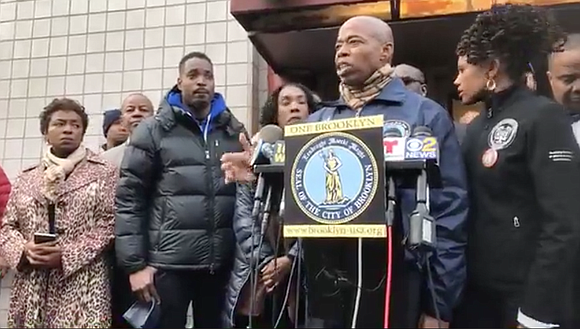 Two hate crimes in the city in which Black women were the victims have the city on edge and are another reminder that rhetoric from the White House has a strong hold on American society.
Ann Marie Washington, a Black woman, was reportedly attacked while at the Church Avenue subway station in Flatbush, Brooklyn Friday night. The 57-year-old mother said a white man in his 30s yelled racial slurs calling her a "black bitch" when he punched Washington in the mouth and stabbed her in the shoulder. The suspect came up from behind Washington while she was walking up the stairs.
Injuries from the random attack landed her in the hospital where she had to undergo surgery for her lung.
"She's a strong woman," said her daughter Itisha Washington in one interview. "She's recovering. She had to have a chest tube put in. She's in a lot of pain."
A GoFundMe page has been set up for Washington that has a goal to raise $10,000 for her. As of Wednesday, nearly $2,460 had been raised.
A sketch for the suspect was released by the NYPD; however, no arrests have been made. Police described the suspect as being in his early 30s, about 5-foot-3 and wearing gray and black sweatpants and a black hooded sweatshirt.
Even though there is surveillance video of the incident, some say police aren't doing enough to find Washington's attacker, who remains on the street and who could attack someone else.
In Sheepshead Bay, Brooklyn, another hate crime occurred last week when Black grandmother Evelyn Powers reported that a white man made threats to her and her granddaughter.
"He tells us we should go back to pick cotton. He said we should be lynched. He's saying that we're home attendants. He said go back to your projects and he just went on," she said in a televised interview.
Powers told police that she was waiting outside of a medical building on Ocean Parkway and Foster Avenue. She said the man also threatened to shoot them. Reports indicate the NYPD said the man was not a threat and did not classify the incident as a hate crime.
Founder and lead organizer of community organization Flatbush for Equality said that white people in the neighborhood have been hostile toward longtime Black residents. He said hate on social media is playing a role.
"We've been experiencing things for years," Henry said. "There are Facebook pages promoting white supremacy where they attack Black leadership in the neighborhood. Police are occupying the neighborhood for more affluent white residents. Gentrification is white supremacy."
The NYPD has been highly criticized over the handling of both cases. Residents and elected officials say police aren't doing enough. At a news conference this week given by Brooklyn Borough President Eric Adams at the Church Street subway station, elected officials asked for justice.
"This must be immediately investigated as a hate crime. It cannot be investigated merely as some form of assault," Adams said of the crime done to Washington. "This person needs to be charged with attempted homicide because he stabbed her in her back."