Touro students host Fall Into Health fair
11/15/2018, 12:35 p.m.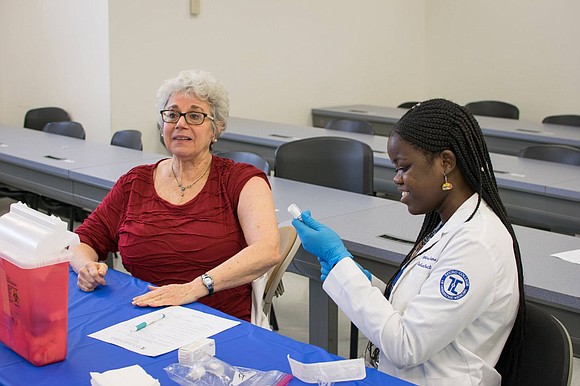 Monday, students from Touro College of Osteopathic Medicine and Touro College of Pharmacy in Harlem offered a free health fair for the Harlem community. The Fall Into Health fair was set up in the lecture halls, study rooms and hallways providing easy access for visitors. Included were screenings for blood pressure, blood sugar and Hepatitis C. Other tests included hearing exams, eye exams and BMI screening. The fair also offered an opportunity for student organizations to share health-related patient education demos and information pertinent to community health. Topics covered included hypertension and diabetes prevention, mental health awareness and women's health and urology-related information. Visitors were also shown demonstrations on how to do breast self-examinations and were educated on smoking cessation strategies, osteopathic manipulative techniques and the benefits of physical activity.