Trump faces fractious fronts at home and abroad
Herb Boyd | 11/15/2018, 11:14 a.m.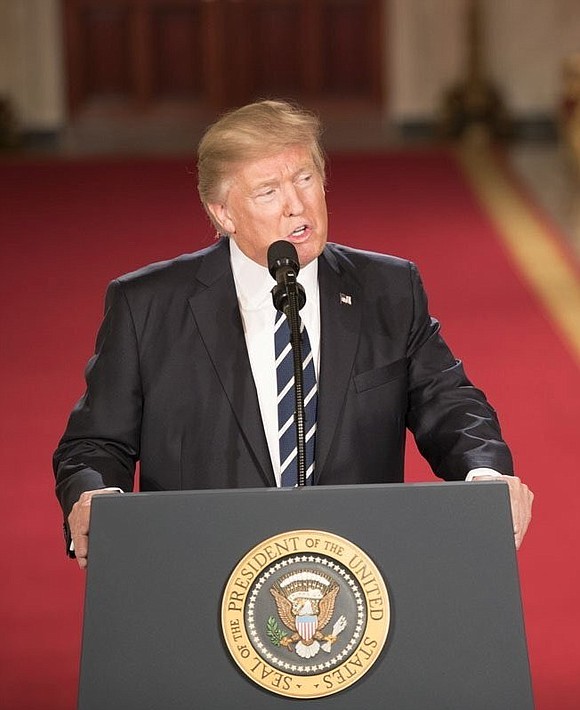 Trump was conspicuously absent from two major events in Paris and late for another. He was a no-show Saturday at the Aisne-Marne American Cemetery and Memorial in Northern France, where he was scheduled to lay a wreath in honor of the more than 2,200 soldiers and 251 unknown bodies that rest in peace.
According to his press secretary, Sarah Huckabee Sanders, the inclement weather "and near zero visibility" grounded the helicopter and prevented Trump from attending the event. She also said that Trump wasn't there because he didn't want to disrupt the traffic in Paris.
Sunday, many world leaders, including Angela Merkel of Germany and Emmanuel Macron of France, marched in the rain down the Champs-Élysées to the Arc de Triomphe in an expression of their solidarity and to commemorate the 100 anniversary of the end of World War I. Trump and Vladimir Putin, Russia's leader, were both late arrivals and did not walk with the rest.
Trump also skipped the peace forum, instead citing that he would later take part in a bilateral meeting with President Macron to discuss security and economic trade.
None of these slights will go down well with the major leaders of Europe in their desire to retain the postwar global system that is endangered by the nationalism expressed by Trump and Putin. Macron, during his address to the crowd, rebuked the nationalism openly expressed by Trump and called for countries not to cower in isolationism when collaboration and unity are needed. Trump was not too receptive to those comments.
But with the Congress now split, Trump should be all the more concerned about holding things together among America's allies. His behavior in Paris was a total flop in this regard and showed again that he has little respect for the living or the honored dead.
His screed of nationalism isn't altogether in a vacuum because there are several European and Asian nations that are in accord, particularly Poland, Hungary, Italy and Turkey. And even some of the nationalists, such as China, are not that keen on the splintering of the European Union.
In the coming days Trump should be ready to face fractious fronts at home and abroad, and nothing more alarming than a newly aroused House.