Man Up! Inc. celebrates 15 years of community activism inspired by Daesean Hill shooting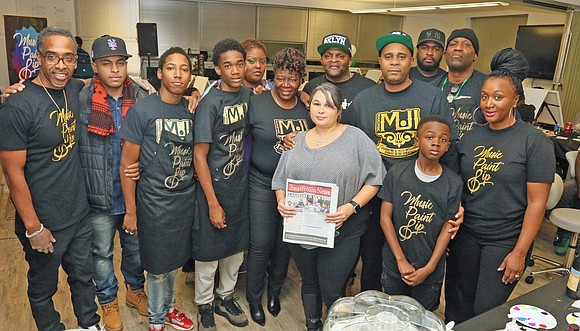 "Saturday was full of many different emotions as his anniversary always is," said brave mom Kimberly Hairston, who traveled from Atlanta to East New York to commemorate the 15th anniversary of the shooting death of Daesean "Dae-Dae" Hill, her 8-year-old son, in Brooklyn. "This year I would say it was bittersweet. It was great to see family and friends who have been with me through this journey from the beginning. I felt so much love and support from the community."
Community activist and Community Board 5 Chairman A.T. Mitchell and his Man Up! Inc. family hosted an event that marked the sad date, and also marked their 15th year of community organizing created out of the tragedy of the crossfire killing of Hill.
"I was very happy to see all of the work that Brother A.T. Mitchell and the Man Up family is doing in the community," said Hairston. "I think it's amazing. I believe sometimes something has to die to bring life to something else. Daesean's death, brought life to a movement and a change in the community. For that I am very proud."
This year Mitchell, Man Up! founder and executive director, commemorated the Nov. 17, 2003, anniversary and of Hill's death. On that day, the 8-year-old grade-schooler was walking home from his East New York school with his stepfather, Stelly Chisholm, and his 5-year-old brother and 3-year-old sister, when he was fatally hit in crossfire between individuals caught up in a drug dispute. Suspected drug dealer Michael Walker, 23, was also killed.
Three people were convicted in Hill's death, and sentenced to seven and one-half to 15-year terms.
Saturday, Nov. 17, 2018, balloons were released on the corner of Sutter Avenue and Hendrix Street, now also known as Daesean Hill Drive, as a symbol of remembrance of the young boy who inspired a movement that has changed and saved thousands of life over the past 15 years.
Indeed, there were plenty of tears and hugs for the heartache. There was reminiscing by family members and a tight community as they gathered to support each other. Afterward, Hairston and Mitchell, alongside Assemblyman Charles Barron and Councilwoman Inez Barron, led community members to the Prince Joshua Avitto Community Center for a wonderful, intergenerational music, paint and sip event, where signs for Dae-Dae, Man Up! and the Notorious BIG were created with stencils (courtesy of DJ Blue and legal aid attorney Anthony Posada of the Criminal Justice Unit).
"The event and the day turned out to be amazing," Hairston said. "I felt Dae-Dae's spirit in the room with all of the love. I would like to send a very big thank you to brother Mitchell, and my Man Up! family for bringing me back home and making this event possible, and most of all for consistently keeping Dae-Dae's legacy alive. I'm very proud of the work he is doing."
"I saw this young brother die, when they pronounced him dead at the hospital," said Mitchell. "I was there with the family and with [now Assemblyman] Charles Barron. I never met Daesean personally, but I feel that I have known him all my life. For 15 years he has inspired our grassroots organization to want to do better, to be problem solvers. We created Man Up! Inc., to help our people."