Make family vacations your new holiday tradition
SHERYL NANCE-NASH | 11/22/2018, midnight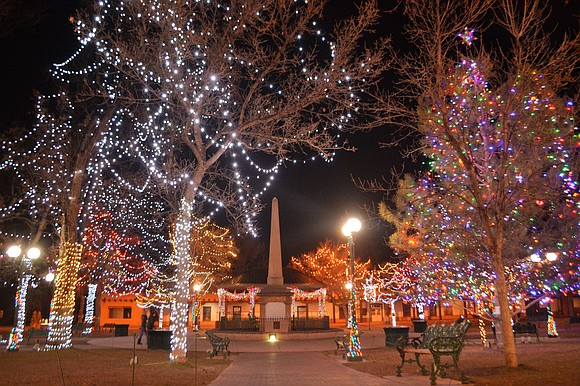 Tis the season for all things merry. Maybe though, you're thinking of doing something different this year. Instead of giving gifts, you're in the mood for making memories. Experiential gifts are trending, and a family vacation will give you the gift of quality time with each other. Why not start a new tradition?
Here are a few ideas to get you started.
Santa Fe, New Mexico
With traditions such as farolitos, Las Posadas, biscochitos, cozy fireplaces ablaze with fragrant pinon wood and meals of tamales smothered in red chile, consider visiting Santa Fe, N.M. Do the holidays Southwest style.
The city merges Native-American culture, Spanish Colonial heritage and the Old West pioneer spirit, ensuring a unique, rich Yuletide celebration. Who knows, it might even snow. If it does, the legendary adobe buildings will look like gingerbread houses with a layer of snow creating a "frosting" look on the roofs and ledges. How's that for an IG moment?
Hit the slopes with your skis. Or if you're into something more sedate and sweet, you'll love the hot chocolate elixir drinks in the craft chocolate shops along the Santa Fe Chocolate Trail. Santa Fe, which means "Holy Faith," welcomes visitors of all faiths to celebrate the season with a cornucopia of traditions and celebrations of food, song, dance and light displays. What you don't want to miss is the Christmas Eve Farolito Walk on Canyon Road. You'll always remember walking with the masses along this famous road that is decorated with hundreds of farolitos (small brown sacks filled with sand and holding a glowing candle inside, often called "luminarias" in other parts of the for country).   
You'll cheat yourself if you don't experience the musical holiday tradition featuring classical pieces and traditional Christmas carols in the historic Loretto Chapel, performed by the Santa Fe Pro Musica Baroque Ensemble at 6 p.m. and 8 p.m. each evening, Dec. 20 to Dec. 24.
The holidays are all about food. Sign up your family for a hands-on experience at the Santa Fe School of Cooking for a Traditional New Mexican Christmas cooking class, which includes preparing shredded pork tamales and poblano and corn tamales, both served with red chile sauce, hearty holiday posole with green chile, calabacitas and the state's official cookie, bizcochitos.
National Harbor, Md.
Gaylord National Resort and Convention Center is "Christmas Central." You'll want to check out Christmas on the Potomac, which features more than a dozen holiday activities, including the resort's award-winning ICE! attractions, showcasing a spin on the beloved "A Charlie Brown Christmas" with 2 million pounds of larger-than-life ice sculptures hand-carved by artisans from Harbin, China, and the new Cirque Dreams Unwrapped, a Christmas fable featuring acrobatic acts and aerialists from seven countries.
There's also a new Merry Snoop Christmas Scavenger Hunt, and an interactive character experience, Breakfast with Charlie Brown & Friends. The Christmas Village has an ice skating rink, gingerbread decorating, stories and carols with Mrs. Claus and Santa. The resort's luxury spa, Relâche Spa, will be getting into the holiday spirit with chocolate-themed treatments. The best way to ensure visitors get a full holiday experience with the greatest value is through the resort's packages, the Christmas on the Potomac Package and the ICE! Is Nice Package.