Thanksgiving celebrated across the city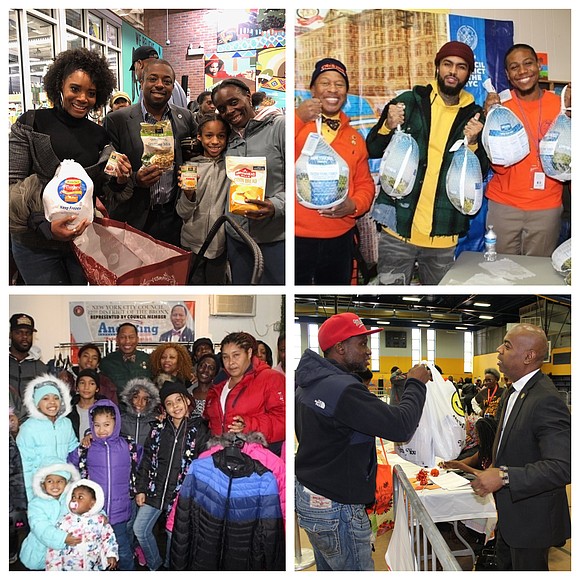 One Hundred Black Men of New York feeding 10,000 New Yorkers
One Hundred Black Men (OHBM) of New York provided $40,000 to help local churches and institutions provide meals for New Yorkers between Thanksgiving and Christmas. Partner churches include Abyssinian Baptist Church, Salem Methodist United Church, Canaan Baptist Church in Harlem, and the National Action Network in Harlem. Last week, OHBM members distributes turkeys and food baskets at the churches.
Council Member Andy King and rapper Dave East giveaway turkeys in the Bronx
New York City Council Member Andy King, Rapper Dave East and representatives from community and faith-based organizations distributed turkeys to the public for the holiday season. The Thanksgiving giveaway took place at Beulah Church of God, Bronx. Scores of people stood on line to receive hoodies and backpacks donated by East and turkeys donated by the Governor's office, MetroPlus, Workmen's Circle and Fresh Direct. Members of the Bronx Youth Empowerment Program assisted in the distribution
Earlier this month, King and Bronx restaurant owner Paul Brown kicked off the season of "Sharing is Caring" by providing a hot lunch and distributing brand-new winter coats to more than 50 children from the neighborhood. Many of the coat recipients resided at Eastchester Garden's NYCHA development, which is experiencing major heat insufficiencies.
Food Bank for New York City hosts pre-Thanksgiving meal in Harlem
On Wednesday, Food Bank For New York City served a pre-Thanksgiving meal with all the fixings to more than 500 of the city's most vulnerable residents, including an early seating just for seniors. Food Bank will also provide hundreds of "Thanksgiving Meals to Go," so that residents will have a special meal on Thanksgiving Day.
Assemblymember Rodneyse Bichotte distributes turkeys in Brooklyn
On Monday Assemblymember Rodneyse Bichotte helped distribute 600 turkeys to local service-based organizations that are serving Brooklynites in need this Thanksgiving. Recipient groups include HELP USA, a national organization that develops and manages permanent supportive housing, operates shelters, and runs prevention programs, and Masbia, a local kosher soup kitchen network.
Harlem students put together vegetable baskets for families
GrassROOTS Community Foundation distributed approximately 470 fall harvest baskets with healthy, organic vegetables to students at Opportunity Charter School (OCS), a school which serves the city's most vulnerable student population.