Top fashion looks for now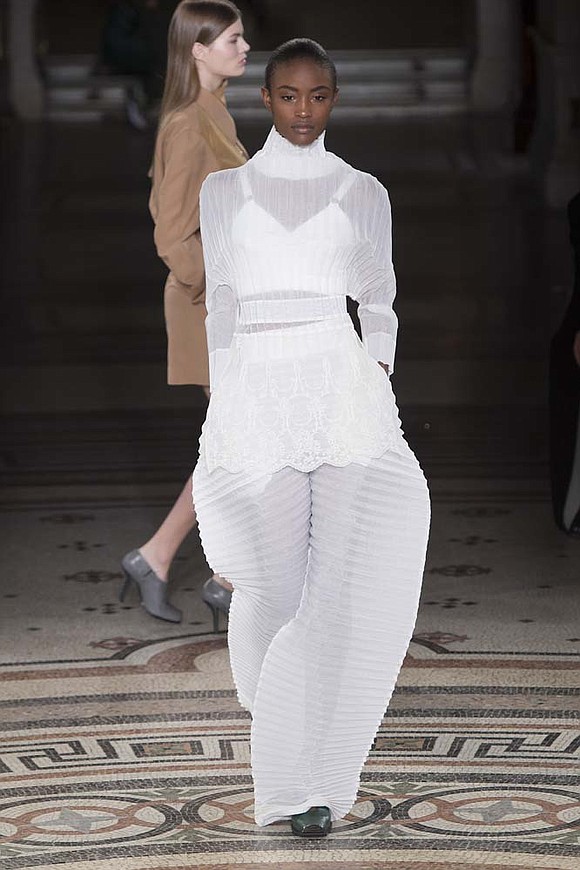 Stella McCartney focuses on designing clothes for women who like clean lines. She is consistent in her styling and often offers a fresh approach to details. Remember the second beautiful dress that the Duchess of Sussex (formerly, Meagan Markel) wore at her wedding to Prince Harry? It was designed by McCartney. McCartney is also the daughter of ex-Beatle Paul McCartney and his late wife Linda. Some folks wonder if that helped her climb to success, but this designer's work speaks for itself. She is incredibly talented and very successful.
For fall/winter 2018, McCartney's collection was functional, comfortable and fashionable. There were camouflage jumpsuits, several stylish sportswear pieces, day dresses and eveningwear. The entire line was filled with just the right clothes for now.
McCartney was born in London, England. Her family later relocated to Sussex, where she enjoyed a life in the country, raising farm animals and growing vegetables. "I was brought up to understand that we are all here on planet Earth together," she told The Guardian in a 2009 profile. Her career in fashion began in 1995. For her first fashion show, in which her creations catered to the needs of young women, she invited supermodels Naomi Campbell and Kate Moss to step out on the runway in her clothes. Throughout her career, she has worked for the Gucci Group, and there have been a number of product launches in her name, including eye care, organic skin-care products, perfume and lingerie. McCartney has also performed stints with H&M and Adidas. She was the creative director for Great Britain's 2012 Olympic Team.
At this season's Paris Fashion Week, McCartney commented, "My family has always blurred the lines between the masculine and the feminine. Half of us wear men's clothing on the runway, and half of us want to look like the women on the runway, too. I think it's about allowing yourself to be yourself and not putting any labels on who you're supposed to be. We're champions of confidence."
For a recent Milan Fashion Week, Stella McCartney's presentation stunned the audience with a beautiful floral print cycling suit enhanced with a sexy V neckline. There were also tennis dresses, two-piece outfits, knitted joggers and terrific tracksuits with zippers on the sleeves. When sleeves were unzipped, there was another ruffling style. These sporty pieces are worn by sports stars such as Serena Williams. McCartney also showed stylish lingerie that often doubled from negligees to sportswear. For evening, there were long, metallic, transparent gowns that was the talk of the town.