Talking SCHOP! Dun Huang in Harlem
Kysha Harris | 11/29/2018, 5:10 p.m. | Updated on 11/29/2018, 5:10 p.m.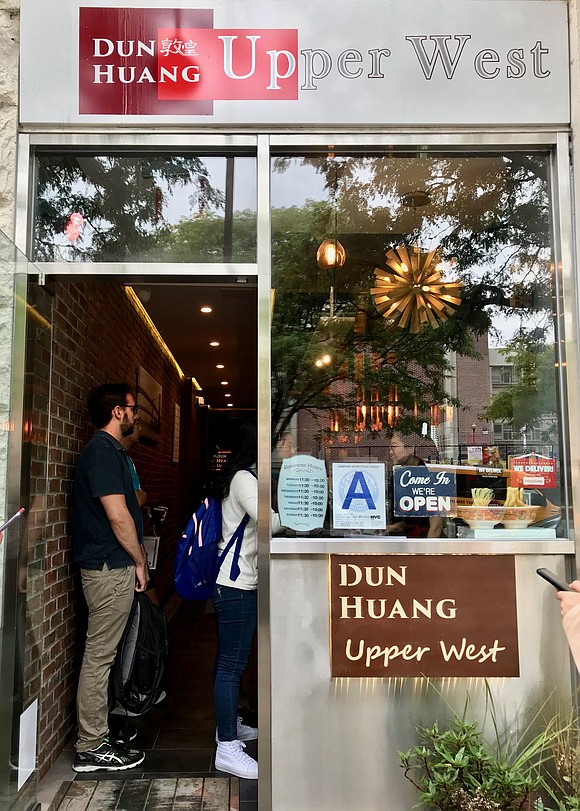 I hope everyone had the Thanksgiving they imagined, created and/or wanted this year. I celebrated with "framily" and it was perfect. Great pre-dinner conversation, acknowledging for what each of us is thankful and awesome food and dessert. My fur-son, Angus, was even there holding court! Thank you Careys!
The night before, my high school crew got together, as we do, for our annual pre-Thanksgiving Friendsgiving meal. We alternate between Italian and Chinese every year.
I found it so fortuitous 2018 was a Chinese year because I found the spot for our gathering right here in Harlem! The newly opened Dun Huang (1268 Amsterdam Ave., 646-476-4549, www.dunhuangfood.com) stopped me in my tracks. It could have been the line outside, but it is also their authentic northwestern Chinese food menu.
The Harlem Dun Huang (which they are calling their "Upper West" location—uh no!) is the fifth of their restaurants in Queens, Brooklyn, Manhattan and New Jersey. They are serving foods from the Lanzhou region of China, combined with Middle Eastern flavors specializing in beef and lamb. However, it is their housemade noodles that most impress me.
The crew gathered Wednesday evening in the small but accommodating private room in the back of the restaurant. I loved the unsuspecting modern intimate design of the space. You would not know it from the outside.
SCHOP! Tip: Adventurous foodies know, if you ever want to try a new and foreign cuisine, find a restaurant filled with patrons from that culture and ethnicity. Nothing is foolproof of course, but the success rate is at least 75 percent greater. Dun Huang patrons concurred!
We began with a noodle fix of the traditional signature Lanzhou beef noodles, in prime beef broth with marinated sliced beef and radish plus Zhajiang hand-pulled noodles with stir-fried ground pork and soybean paste. The beef noodles will warm you down to your toes this winter and the chew of the perfectly cooked noodles will have you shaking your head in disbelief.
We moved on to ribs tips, spicy pickled radish, mapo tofu (which is a great tofu experience), braised lamb stew with superwide noodles and vegetable sides of verdant cauliflower and cabbage, separately prepared with chilies, garlic and fermented black beans. All were exceptional!
We had an unexpected ending with a sweet glutinous rice cake and hot black sesame fritters dizzled with honey. I really enjoyed the latter for all of its uniqueness.
Thank you, Dun Huang, for a delicious Friendsgiving meal and welcome to Harlem—not "Upper West."
Happy eating and thanks for reading!
Kysha Harris is a food writer and editor, culinary producer, consultant and owner of SCHOP!, a personalized food service in NYC for over more than years. Follow her on Twitter and Instagram, @SCHOPgirl, on Facebook, /SCHOPnyc, and her blog, www.talkingSCHOP.wordpress.com. Questions? Comments? Requests? Feedback?  Invitations!  Email AmNewsFOOD at AmNewsFOOD@SCHOPnyc.com. Follow us on Instagram, Twitter and Facebook @NYAmNewsFOOD and tag us with #SoAmNewsFOOD with your food finds!