Trump adds his rebel yell to Mississippi Senate race
Herb Boyd | 11/29/2018, 11:05 a.m.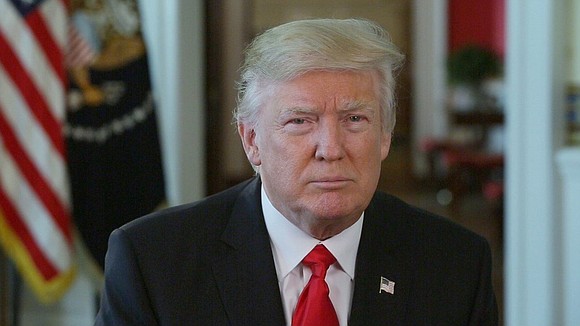 Catching flak from even GOP members for his stance on climate change, with six in 10 Americans disapproving of his leadership, and the Mexican border tearing at the seams, Trump had no choice but to run for cover in Mississippi with an alternate purpose of helping the incumbent Senator Cindy Hyde-Smith.
"I'm here to ask the people of Mississippi to send Cindy Hyde-Smith back to the United States Senate," Trump told a partisan crowd in Tupelo Monday evening. This stop was his first of the night, and he added that the runoff between Hyde-Smith and Democrat Mike Espy "is one of the most important elections of your lives."
It was in Tupelo weeks earlier that Hyde-Smith angered African-Americans with a comment while complimenting a supporter. She said, "If he invited me to a public hanging, I'd be on the front row." Later, she attempted to apologize for the comment.
When asked about the comment, Trump told reporters that he had heard her apology "loud and clear." He added, "I know where her heart is, and her heart is good."
For every good word for Hyde-Smith, Trump had stinging words for Espy, a former Clinton administration official. He asserted that Espy represented the "far left" and was more concerned about protecting undocumented immigrants than natives of Mississippi.
Seeking to further identify with a crowd during his speech in Tupelo, Trump said he didn't want to sound "conceited," but during his younger days he said he was often compared to Elvis Pressley, whose hometown was Tupelo.
"Other than the blond hair, when I was growing up, they said I looked like Elvis," he said. "Can you believe it? I always considered that a great compliment."
There had been only one survey completed before Tuesday's election, and Hyde-Smith had a wide lead over Espy.
"Cindy Hyde-Smith's comments are reprehensible," Espy said. "They have no place in our political discourse, in Mississippi, or in our country. We need leaders, not dividers, and her words show that she lacks the understanding and judgment to represent the people of our state."
The runoff occurred when neither candidate—like Trump's approval rating—got 50 percent. Hyde-Smith, who had been appointed by the governor to fill the seat vacated by Thad Cochran in March, received 41.5 percent of the vote to Espy's 40.6 percent. He served as secretary of Agriculture under Bill Clinton.
It turns out that Alphonso Michael Espy will not be the first African-American to serve in the U.S. Senate from Mississippi since Reconstruction.