Williams uses championship mindset in new career
Lois Elfman | 11/29/2018, 2:54 p.m. | Updated on 11/29/2018, 2:54 p.m.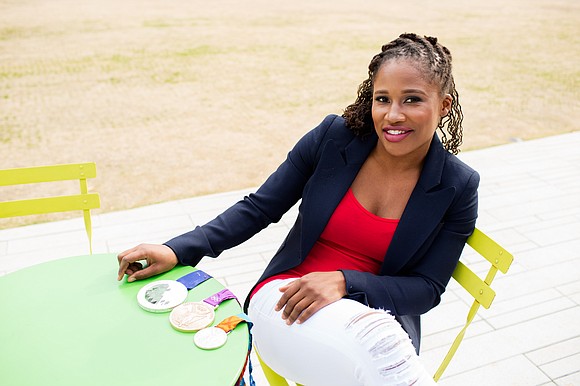 As an athlete, Lauryn Williams made history. She won two Olympic and four World Championship medals as a sprinter. After retiring from track, Williams tackled a new sport, the bobsled, and won a silver medal at the 2014 Olympic Winter Games—making her one of just five athletes ever to win medals at both the Summer and Winter Olympics.
"You set a goal and then there's something above and beyond that goal you're not even possibly dreaming of," said Williams. "I never wanted to be an Olympic bobsledder or thought of being the first American woman to get medals in the Summer and Winter Olympics, but by working hard to reach my full potential I was able to surpass anything I could ever imagine would happen."
Williams said she'd always imagined Olympic moments in track, but in Sochi it was surreal because it's not something she ever expected. "It's that moment where you realize the idea that it takes a village. My whole career really was a village," she said.
After her extraordinary Olympic achievements, Williams focused on the rest of her life. She had earned a Bachelor of Business Administration degree and an MBA while competing in track, and later became a certified financial planner.
"There's a challenge in the transition. Who am I outside of being an athlete?" said Williams. Although she'd prepared for retirement, it still took time to adjust. There were several opportunities, but she focused on what was most satisfying and the best fit. She landed on financial planning because although that was always important to her, she saw many other athletes brush it off.
"When you're young, you have basic financial literacy needs; you need to understand how to budget," said Williams. "As Olympic athletes, we're independent contractors, so we're running a business."
Frustrated by a lack of advisors who could address her needs, she began to develop the financial literacy she now works with people—both athletes and non-athletes—to achieve. She has even done additional studies about issues around student loans. Most of the clients of her company, Worth Winning, are young professionals in their 20s and 30s, and in keeping with the way that generation lives, much of the work is done virtually. She works with people all over the U.S., using the Zoom app.
"It's about being able to help those young professionals get organized and focus specifically on the things we need as young professionals," said Williams. "If it's athletes, it's understanding you're running a business and how to appropriately do so. I'm familiar with an athlete's needs because I lived that life."
She does speaking engagements about both sports and business. Her favorite topic is being able to pivot. "It's being open to what's behind the next door," said Williams. "You create what you want."